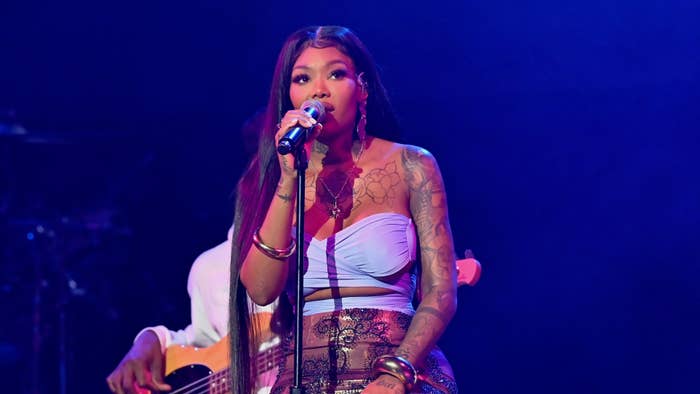 The 2023 Grammy nominations left Summer Walker fans scratching their heads.
Immediately after the nods were announced, the singer's supporters took to social media to express outrage over her snub. Walker's 2021 sophomore album Still Over It failed to secure a single nomination, despite its critical and commercial success. The 20-track album debuted at No. 1 on the Billboard 200, landed on multiple year-end lists, and received a nom for Top R&B Album at the 2022 Billboard Music Awards.
Walker took to Instagram on Tuesday to address her second consecutive shutout. The singer-songwriter's 2019 debut album Over It was also snubbed by the Recording Academy, despite its strong performance and critical reception. 
"As for the grammys for a 2nd time, the math is literally not mathing," she wrote on her IG Stories. "I was gone post some numbers but it's ok, atleast the streets fuq with me. y'all always pack out every show & support everytime I drop so thanks for the love I do receive."
She also shared her appreciation for listeners, writing, "Thanks for all the overflowing love in my dm's."
Justice Baiden, the co-founder of Walker's record label Love Renaissance (LVRN), also called out the Recording Academy for snubbing Walker as well as other R&B artists.
"Summer Walker not getting a Grammy nom is actually treason—smfh," he tweeted. "I was cool when we got snubbed for Over It but then Still Over It smashed every record affected culture and was a masterclass on songwriting—Grammys not acknowledging Summer Walker really makes me lose my complete faith in that entity as a whole—time to move on I fear."
Baiden pointed out the lack of love for Kehlani, Ari Lennox, and SZA as well. "Feels like it's something against a young black woman that doesn't work with their award show—let's talk about it."
Though Still Over It didn't receive any nods, Walker earned her first Grammy nomination this week for her involvement in Kendrick Lamar's Mr. Morale & the Big Steppers album. She co-wrote and was featured on "Purple Hearts" track with Ghostface Killah.
The 65th Annual Grammy Awards will take place on Feb. 5 in Los Angeles.