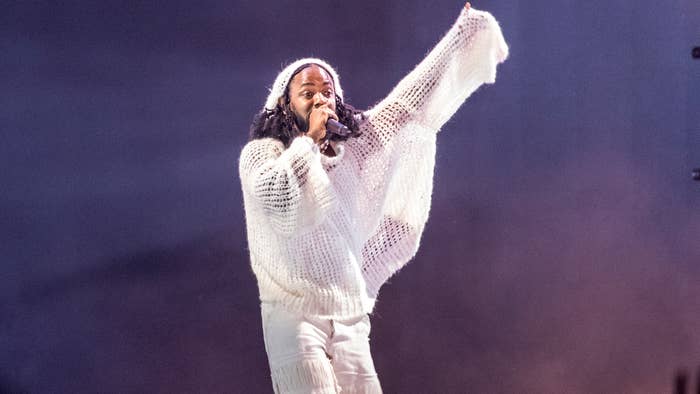 With his new album Mr. Morale & The Big Steppers now in the hands of the world, Kendrick Lamar has given fans a two-part listening experience comprised of nine songs each.
Inaugural listens launched simultaneously worldwide as Thursday turned to Friday, inspiring fans to immediately start digging into who all Kendrick has assembled behind his latest work of art. Preceding the album's release—and spurring a wave of discourse on its own—was the unveiling of the new song and video "The Heart Part 5."
Below, we've assembled a rundown of the new 18-track album's list of involved producers per currently available Spotify credits.
DISC 1
"United In Grief"
Producers: Oklama, Sounwave, J.LBS, Duval Timothy, Beach Noise, Tim Maxey
"N95"
Producers: Sounwave, Jaheen Sweet, Boi-1da, Baby Keem
"Worldwide Steppers"
Producers: Tae Beat, Sounwave, J.LBS
"Die Hard" f/ Blxst & Amanda Reifer
Producers: Baby Keem, Sounwave, J.LBS, Dahi, FNZ
"Father Time" f/ Sampha
Producers: Sounwave, Dahi, Bekon, Beach Noise, Duval Timothy, Victor Ekpo
"Rich (Interlude)"
"Rich Spirit"
Producers: Sounwave, Dahi, Frano
"We Cry Together" f/ Taylour Paige
Producers: The Alchemist, J.LBS, Bekon
"Purple Hearts" f/ Summer Walker & Ghostface Killah
Producers: Sounwave, DJ Khalil, Beach Noise, J.LBS
DISC 2
"Count Me Out"
Producers: Oklama, Sounwave, Dahi, J.LBS, Tim Maxey
"Crown"
"Silent Hill" f/ Kodak Black
Producers: Sounwave, Boi-1da, Jaheen Sweet, Beach Noise
"Savior (Interlude)"
Producers: Oklama, J.LBS, Sounwave
"Savior" f/ Baby Keem & Sam Dew
Producers: Oklama, Sounwave, J.LBS, Cardo, Mario Luciano, Rascal
"Auntie Diaries"
Producers: Beach Noise, Bekon and the Donuts, Craig Balmoris, Bekon, Sergiu Gherman, Tyler Mehlenbacher
"Mr. Morale" f/ Tanna Leone
"Mother I Sober" f/ Beth Gibbons of Portishead
Producers: J.LBS, Sounwave, Bekon
"Mirror"
Producers: Bekon, Tyler Mehlenbacher, Sergiu Gherman, Craig Balmoris, Dahi, Sounwave, Tim Maxey