Stunna 4 Vegas reminds us that not everything is as it seems. 
On Wednesday, the North Carolina rapper released the amusing video for "Do Dat," helmed by directing trio Reel Goats. The five-minute visual begins in the "Basement Hideout" of Detective Johnson, who is trying to determine exactly how Stunna, Lil Baby, and DaBaby amassed so much wealth in such a short period of time. Of course, the detective assumes there's some illegal activity going down, so he heads to Stunna's home to collect evidence.
"I've been tasked to follow Stunna 4 Vegas, aka Rich Youngin ...," Johnson says at the beginning of the video. "They say Stunna got rich in six months. My guess: Organized crime, prostitution, or narcotics. Stunna hangs out with these two low-life sons of bitches, Lil Baby and DaBaby—two grown men actin' like babies."
The video then cuts to a shot of Stunna, who is suspected of gun distribution. But as we get a look inside his home, it becomes clear that the rapper isn't hawking illegal firearms; he's hosting an anti-gun committee in which he convinces others to give up their weapons. We then see similar situations with Lil Baby and DaBaby. The former is suspected of running a prostitution ring, but is actually teaching a women's self-defense class. The latter is believed to be selling weed, but as his scene continues, we find out the bags of grass are actually rabbit food.
You can check out the "Do Dat" video above. The track appeared on Stunna's sophomore album, Rich Youngin, which arrived back in January.
On the day of the video's release, Lil Baby made a surprise stop at his old high school in Atlanta. The Grammy-nominated rapper performed for students at Booker T. Washington High and awarded a $150,000 scholarship.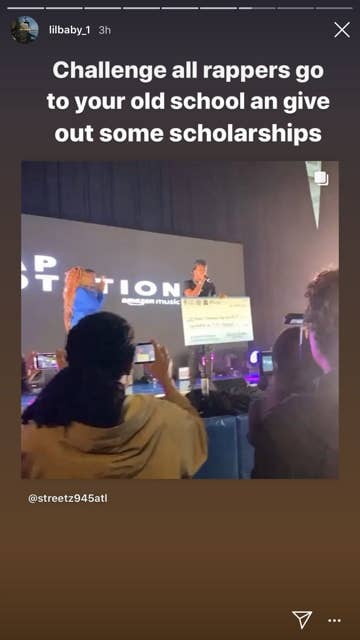 "I wasn't the best kid school ..." he told 11Alive. " I didn't think I could go far. So for me to come back here, it's not even so much about me giving, or what I got to give, or what I got to say. It's more to me [about them] just seeing me and just seeing that it's real. That y'all gonna see me on TV later, and on the Internet, and in this kind of car, but you also see me at this kind of school, live in the flesh ... It means a lot to me to give a scholarship to a child."
Lil Baby made the surprise visit less than a week after he dropped his second studio album My Turn. The project includes appearances by Young Thug, Lil Wayne, Future, and Gunna, and is expected to debut at No. 1.