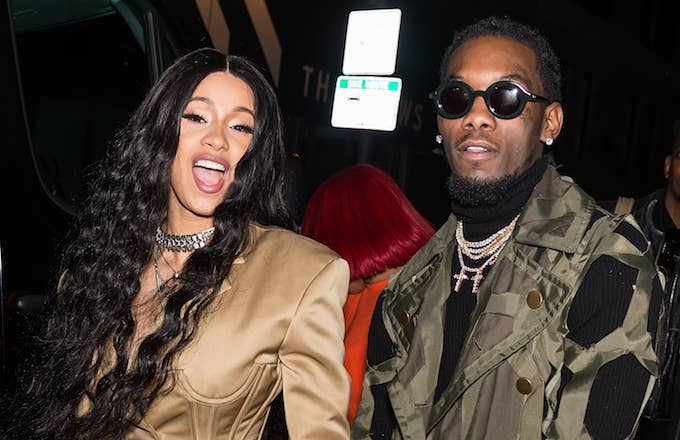 In case you're wondering, Cardi B still isn't pregnant. At least that's what her fiancé Offset claims.
The Migos member shot down ongoing pregnancy rumors Friday while speaking to TMZ in Los Angeles. Because people apparently have trouble minding their own business and accepting Cardi's word for it.
While taking a stroll down Rodeo Drive, a cameraman approached Offset to ask if he was ready to be father. The rapper then reminded the man he was already a father of three.
"You excited, though," the cameraman asked.
"Excited about what?" Offset replied. "My kids are 2, 2, and 8."
The cameraman didn't like the response, so he pressed Offset for a "yes" or "no" answer. And, unsurprisingly, Offset chose the latter.
You can watch the full exchange below.
Rumors of Cardi's pregnancy have been circulating for the last several weeks. Though several members of her team have reportedly confirmed her pregnancy, the "Bodak Yellow" artist has denied she's with child.
One of Cardi's fans recently went to social media to ask if she was expecting. Her answer was typical Cardi: "No bitch I'm just getting fat. Let me fat in peace."
We think it's about time that we just let this go.