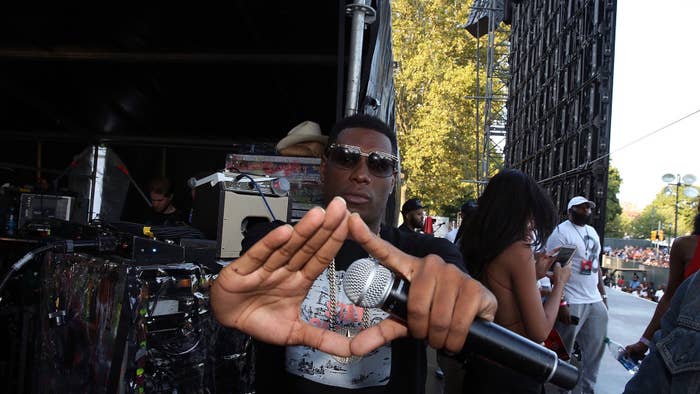 UPDATED 3/10, 11:05 p.m. ET: It's looking like we're actually getting that Jay Electronica album after all.
Shortly after a photo showing Jay Electronica, JAY-Z, and Young Guru in a studio was shared, Tidal took to social media to notify fans that the New Orleans rapper will be holding three listening events for his debut album.
The sneak peeks of the album, which is titled A Written Testimony, will go down in New York, Los Angeles, and New Orleans.
See original story below. 
The anticipation for Jay Electronica's debut album is only getting stronger.
On Tuesday night, producer/engineer Young Guru posted a photo of himself, Jay Electronica, JAY-Z, and Lawrence "Law" Parker inside a recording studio. Guru captioned the Lenny S. photo, "If I don't have a haircut...... you already know!," suggesting the men were locked in album mode. If you'll recall, Hov once said he lets his hair grow out while creating music; so, of course, Guru's latest photo has led many to believe that JAY is heavily involved in Jay Electronica's project.
Back in March 2019, a fan asked Jay Electronica if he and Hov had a collaborative project in the works. The New Orleans native simply replied, "Possible. Likely," before another fan asked if Hov was the reason for his debut album's delay. "Not at all. In fact, there is no delay," Jay Electronica responded.
About a month ago, Jay Electronica announced that his debut album was finally completed, and confirmed JAY-Z would make an appearance.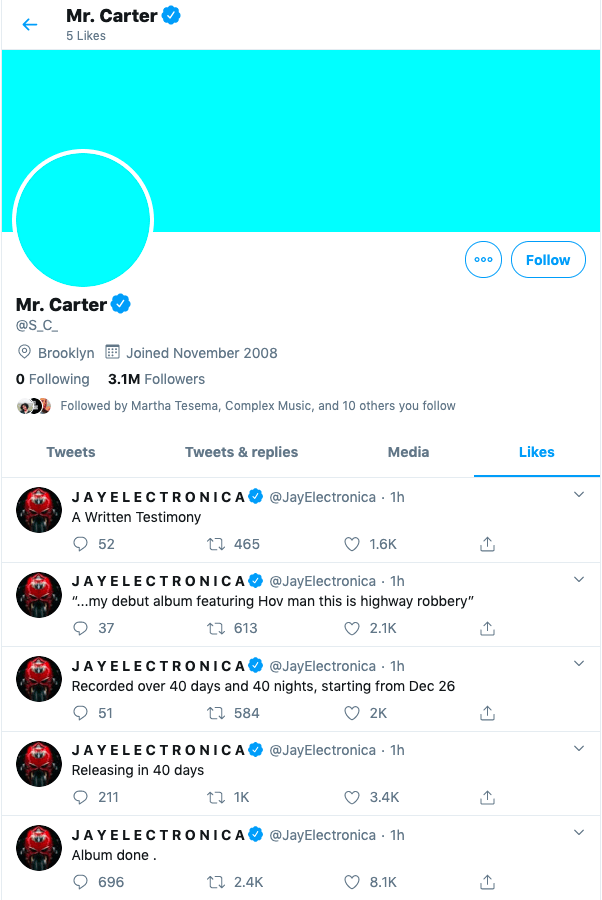 Jay Electronica suggested the project would be called Written Testimony, and said it took him 40 days and 40 nights to record, beginning the day after Christmas 2019.
Jay Electronica also told fans that the much-anticipated album would arrive in "40 days," which points to a March 18 release date.
It's also worth noting that the series of tweets were "liked" by JAY-Z.
Jay Electronica signed to Roc Nation about a decade ago, but has yet to drop a proper studio album. The artist spoke about the release during a 2017 interview with Billboard, stating that albums are a "false concept."
"An album is something that was created by corporations as a product to make money," he said, before he was asked when his debut studio album would drop. "When it's finished. When it's something that I'm pleased with because regardless of the 6 billion people on planet Earth, even if I put something out and the whole 6 billion say it's absolutely beautiful and I don't feel OK with it, I'm the one that carries that. I have to be at a place where I'm pleased with the offering. So, it will come—it's coming soon."
The album will mark Jay Electronica's first release since his 2007 mixtape Act I: Eternal Sunshine (The Pledge). Stay tuned as more details about the project become available.