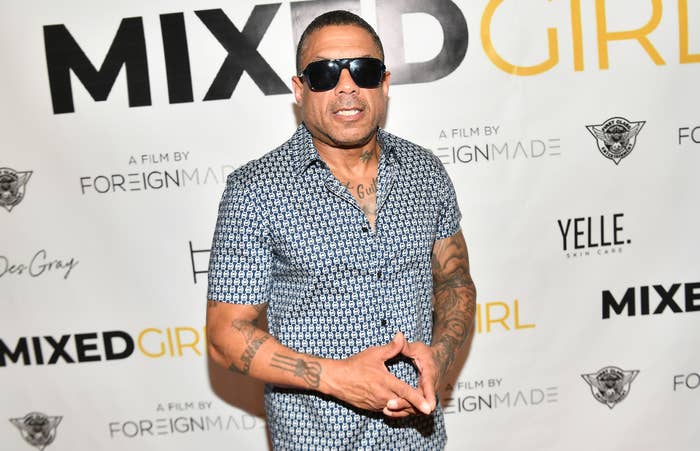 During an appearance on the latest episode of the G.O.A.T.s and Underdogs Podcast, Benzino shed light on what it's like trying to parent a budding star.
In a preview clip shared ahead of the former Source editor's appearance on the show, Benzino recalled attempting to stop his daughter, Coi Leray, from smoking weed when she was a teen.
"She's about 15, 16, essentially," Benzino explained. "And she's smoking — I'm like, damn, I don't want her to smoke. So it's like, man, I don't wanna be the bad guy."
After admitting that he first started smoking at 13 years old, co-host Tamira Smith defended Benzino's so-called hypocrisy, saying, "But you want your kids to be better than you!"
"You're right," Benzino replied. "It's called necessary hypocrisy."
Of course, Benzino and Leray haven't had the smoothest relationship. 
Back in April 2022, Coi called out her father during an appearance on the Breakfast Club, claiming he put her family in a tough spot due to financial issues.
"That's the problem everybody think it was a silver spoon situation. My dad lost The Source when I was like 9 [years old], bruh" she shared. "Once it was gone I was old enough to understand life. And it was gone after that. Reality hit. We were broke, we're figuring things out, ya feel me?"
Days later, Leray took to social media to reveal that Benzino, after catching wind of her comments, subsequently threatened her and her mother.
"My dad is texting my mom threatening her and me because I said he went broke on the breakfast club on the day of my album release," she tweeted at the time. "I hate to bring this shit to social media but my father need help. Sorry if I offended you on breakfast club but don't treatment me or my mom because you hate to admit that we went broke after the source."