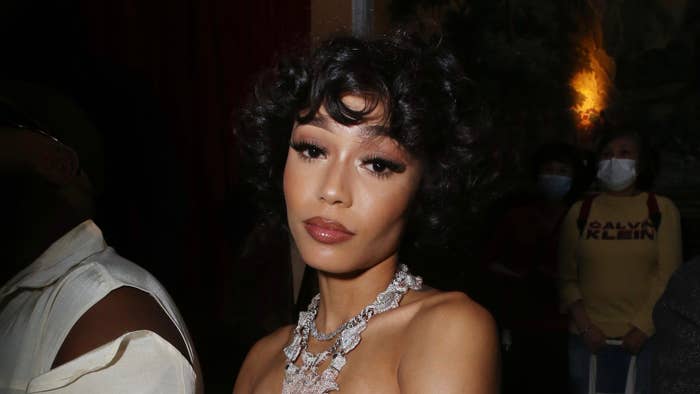 Coi Leray is prepared to expose her father.
On Tuesday night, the 24-year-old artist issued a stern warning to Benzino after he dismissed mounting criticism of his relationship with Leray. Benzino fired off a series of tweets in which he accused social media users of being obsessed with his life and forming an opinion on issues they know nothing about.
"Man listen..if me and my daughter Coi did a project right now y'all mfs would be in trouble. Big Faxx," he began. "… to all u weirdo mfs who like to throw shade at me about MY daughter understand this, she's MY DAUGHTER, I made her, raised her, love her & proud of everything she's doing. Y'all just met her, I've known CC my whole life. So keep supporting her because if she's wins, then I WON."
He continued: "[...] you weirdos think you could ever tell me or have an opinion about me and my daughter? Think about what type of mental illness one must have to do that. Y'all entire lives will be wasted commenting on shit you don't know. Smh what type of mind and life is that?"
Hours later, Leray returned to Twitter to directly address her father, and suggested his words of support were all for show.
"You want me to post these screen shots of what you said to me?" she replied. "Or you wanna just chill or go get help? Lmk."
Benzino apparently heard the message loud and clear, admitting he should've never responded to his critics in the first place.
The exchange took place just a day after Benzino released his "Zino Vs. the Planet" track, in which he addressed his beef with 50 Cent as well as his relationship with his daughter.
"Coi, you know your daddy love you, love you love you," he rapped on the track.
Leray previously accused Benzino of threatening her and her mother over comments she made during a Breakfast Club interview.
"My dad is texting my mom threatening her and me because I said he went broke on the breakfast club on the day of my album release," she tweeted earlier this month. "I hate to bring this shit to social media but my father need help. Sorry if I offended you on breakfast club but don't treatment me or my mom because you hate to admit that we went broke after the source."