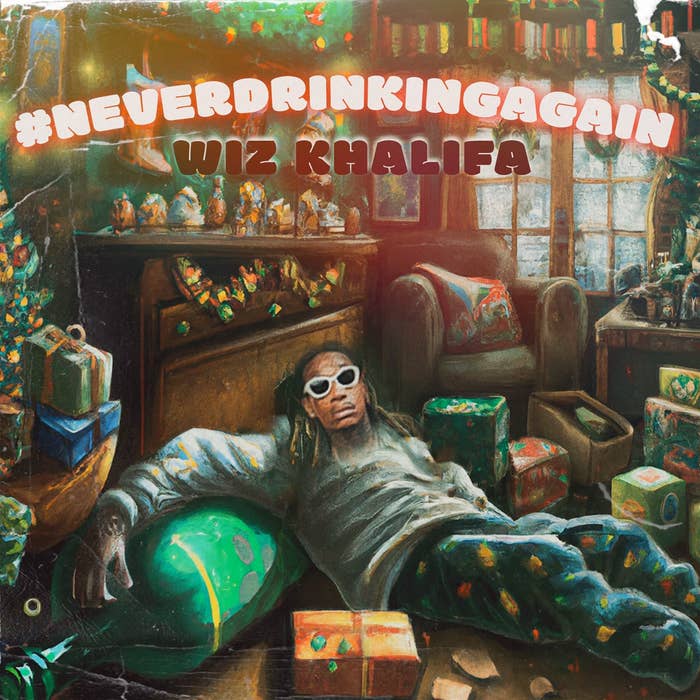 Ahead of New Years Eve, Wiz Khalifa has shared his new song "Never Drinking Again."
"Just in time for New Years," said Wiz in a post on Instagram upon releasing the track. "Enjoy your festivities drink responsibly and tag me when you use this sound in your video the day after #neverdrinkingagain." Instead of opting for a rapping approach on "Never Drinking Again," he instead goes for a more melodic sound. The cover art for the single also perfectly encapsulates that feeling of overindulging during the holiday period, with Wiz slumped over Christmas presents and looking a little worse for wear.
The song follows the release of his latest project Multiverse, which arrived in July and received a deluxe edition in October. The project saw him experiment with a number of different styles, with some songs he described as "soulful" and others more club-oriented. 
The prolific rapper made headlines earlier this month and he suggested it would be "fun" to face off against Lil Wayne in a Verzuz-style event. "I think that would be fun. Yeah," he told Superstar Jay on Shade 45. "'Cause Wayne's a really dope performer, so it's like, with him… me and him going back and forth, like, performing bangers? That shit [would] be hard. And we both smoke hella weed, and I think that would be more like a concert than a Verzuz." Wiz previously showed up during the Three 6 Mafia and Bone Thugs-N-Harmony Verzuz event as a guest performer.
Check out "Never Drinking Again" below via Spotify.