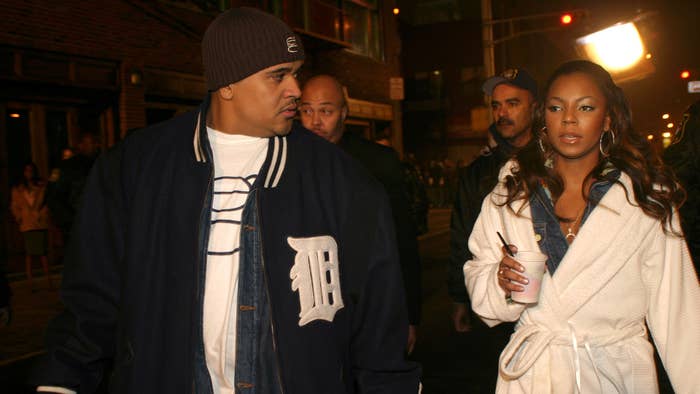 Irv Gotti has responded to the backlash against recent comments regarding his alleged relationship with Ashanti, who was signed to his record label Murder Inc.
On Sunday, the producer and record executive was interviewed by the Shade Room at the VMAs and asked why he kept speaking on his long-rumored sexual relationship with the singer. "'Cause that's why, you askin' me," he said, as seen in the clip below. "Did I bring Ashanti up? You did it. Here's what I'm going to say: I wish Ashanti nothing but the best. I'm not hooked on her, like, 'I can't get over her.' It's none of that shit."
He went on to explain that it would've been wrong to not talk about Ashanti when discussing the history of Murder Inc., and he would've faced criticism if he hadn't. "She's too important to Murder Inc.," he said. "They tried to #MeToo me. You know what the fuck they said. Stop it Shade Room. You the shadiest ones."
After the clip was posted, Gotti responded to a fan who asked why kept answering the questions about Ashanti. "Oh. Please believe. It's gonna be NO COMMENT from here on end [sic]," he commented. "But I felt like at least trying to make y'all understand. Moving forward. it will be limited interviews and about of[sic] no comments. I tell the truth cause I want the people to know the real. But honestly. Y'all don't give a fuck about the truth."
He added that regardless of what he says, he'll continue to face backlash. "Y'all gonna say and do whatever y'all want," he continued. "So why keep giving y'all the real. It's better to be like everyone else. Lie to y'all. Alter the truth. Or don't say shit to y'all and keep you in the dark. Hahahha. I got slandered for telling y'all the absolute truth. Lol."
Gotti faced backlash after he recalled the story of an intimate moment with the former Murder Inc. artist on an episode of BET's docuseries on the label. The story left many wondering why he continued to talk about Ashanti, whom he dropped from Murder Inc. in 2009. It came not long after he appeared on Drink Champs and spoke about his alleged relationship with Ashanti. What he said even led to Fat Joe slamming Gotti, sharing a statement in which he said he and the Murder Inc. founder are no longer friends. Ja Rule also said he doesn't condone his recent comments.