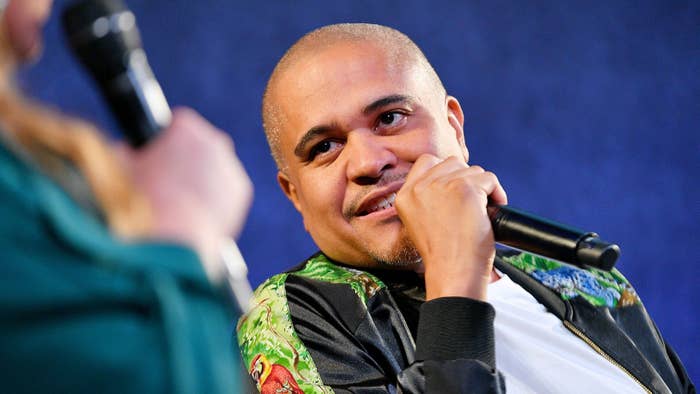 Irv Gotti is heavily featured in BET's new docuseries The Murder Inc. Story, which chronicles the rise of the prolific rap label. But the industry veteran isn't making waves for the stories he's telling about Murder Inc. It's because he keeps talking about Ashanti.
In the latest episode of the new series, Irv details how his two-decade-old relationship with Ashanti was initiated, and recounts an interaction they had after a studio session one night.
"I'm separated from [my wife] Deb. I'm on my own. And Ashanti's coming to the studio every day and our friendship and bond is naturally growing," Irv explains in the clip above. "She used to wear these Juicy sweats and her ass was looking fat. Her ass was looking great. So, one day I was like, 'Yo, I'll take you home.' She said, 'Bet, cool.' We are walking to her front door of her crib. She turns and says goodbye and I just kiss her and grab her ass and just mwah. It was like, what took you so long?"
The story left many on social media wondering why Irv continues to talk about Ashanti in the first place, especially since they were at least a decade 
The anecdote is the latest in a series of tales that Gotti has been recounting over the last few weeks regarding his ex. His recent episode of Drink Champs found the rap veteran making news again after he revealed more about his past relationship with Ashanti. Gotti went on a rant for several minutes describing the day he found out she was dating Nelly, going into details about how he felt about it. The episode also prompted a response from Fat Joe after Gotti claimed that they were no longer friends.
"Irv Gotti said I'm no longer his friend. And he's correct, because I'm his brother," Joe explained in the livestream. "And I love him, I love his entire family, I love his mother, I love his sisters, I love his brothers, I love his sons. I love them all. And so sometimes, brothers check each other. That's the furthest I'ma go."
Ashanti has yet to respond to Gotti's recent antics. See what others had to say about Irv Gotti's comments on the singer over these last few weeks down below.