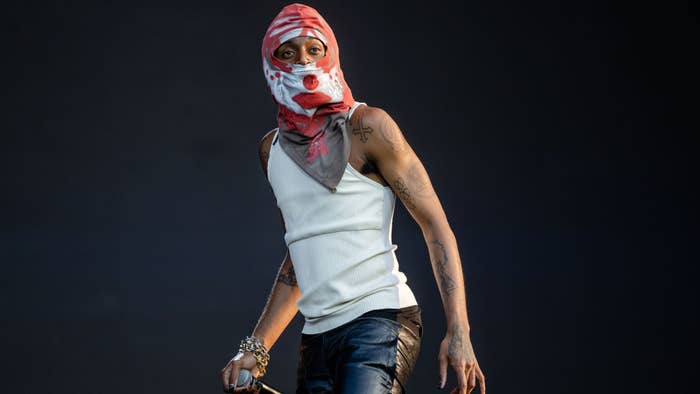 In a new interview with XXL, Playboi Carti opened up his upcoming album, the possibility of him and Lil Uzi Vert releasing a collab album, his relationship with Iggy Azalea, and much, much more. 
Carti said that he's naming his next album Music and explained why to XXL's Vanessa Satten.
"I was about to name my album Music because that's where I'm at, you know what I'm saying? Music," he said. "Music because that's all it is at this point."
When Satten asked how he feels about his fans pointing to his vocal delivery as a "baby voice," Carti didn't seem to be offended by the language, revealing, "I don't know. I don't judge. I can't get mad at my fans for saying baby voice." And for the album itself, Carti said he has plenty of subject matters he's going to dive into.
"Love. Sex. Drugs. Changes in my life," he said. "I've been rapping about going to rehab. I want to go to rehab because I think I'm bipolar. I want everybody to feel free. I want this album to make everyone feel free. I hope this album brings peace to the world, honestly. I'm in love with what I'm doing. Like I told you, you can't put a genre alternative [on me]. My little brother told me that all the time."
That's not the only project from Carti that fans have their eyes on either, as the artist also shared that his long-awaited joint effort with Lil Uzi Vert, who he loves "to death," could still have a future.
"Uzi is working on mad music right now," Carti shared. "I don't know if he's serious about a lot of things. But I hope one day we can change the world with that, for sure."
As for his personal life, Carti—who used the interview to describe himself as "adorable but evil"—showed love to his family, as well as Iggy Azalea, the mother of his son Onyx. 
"She's a great mom," he said. "I love her to death. I'm single. She's single now. But that's one of the best mothers in the world. And that's what you got to put in the book, you hear me? I love her to death. She is the best mother in the world.
Carti also had some words of praise for Kanye West and ASAP Rocky.
"Kanye. Words can't describe...that's my big brother. That's my friend," Carti said. "I talk to Kanye every day. He's different and I'm different. I see myself in him a lot and I'm pretty sure he feels the same. I don't really have too many friends and that's really one of my friends. I love him. I love A$AP Rocky. What them two guys did for me is… I love them and I appreciate everything."
Head over to XXL to read the interview in full.