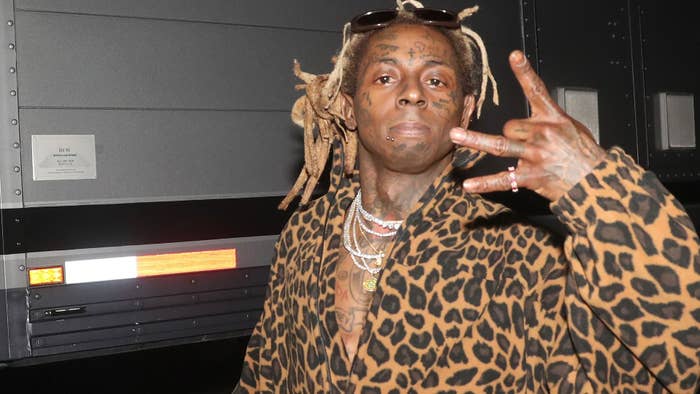 Weezy F. Baby and the F is for "find a wife."
Lil Wayne decided to open up for his nearly 35 million Twitter followers about his desire to settle down and share where he's at in his love life. 
"I need a wife man I'm getting too wealthy," Weezy wrote on Sunday. "Stfu."
It's unclear who Wayne wants to shut up, and it's also unclear what prompted him to declare his need to settle down, but it isn't the first time he's touched on the topic of marriage. Last April, Wayne had the world thinking he tied the knot when he wrote on Twitter that he was the "happiest man alive" with the words "the Carters" tagged along with it. Two months later, he hopped on an Instagram Live with Nicki Minaj and explained he was, in fact, not married last April after Nicki revealed she accidentally congratulated him. 
"The other day, it was some tweets going on, and I was like, 'Oh, what's going on?' And I texted you and I was like, 'Oh, Congratulations. I can tell you've been in a good mood.' And I said, 'Congratulations,' because I thought you had gotten married," Nicki said.
But as Tunechi confirmed, he "did not get married," and instead was referencing his kids in the tweet. "I said 'the Carters,' and girl, that's my damn sons, that's my sons' little name of their little group," Wayne said.
In September, Weezy's girlfriend Denise Bidot posted a happy birthday message on Instagram as the two stood beside giant letters reading "W & D" in honor of his 39th, calling him "the greatest love of my life." Neither Bidot nor Lil Wayne have shared photos of each other since last fall.
While Wayne is waiting for marriage, his fans are no longer waiting for Sorry 4 the Wait, his fan-favorite 2011 mixtape, to hit streaming services. The rerelease came alongside four new songs: "Cameras," "Lil Romeo," "Bleu Snappin,'" and "Anti-Hero."