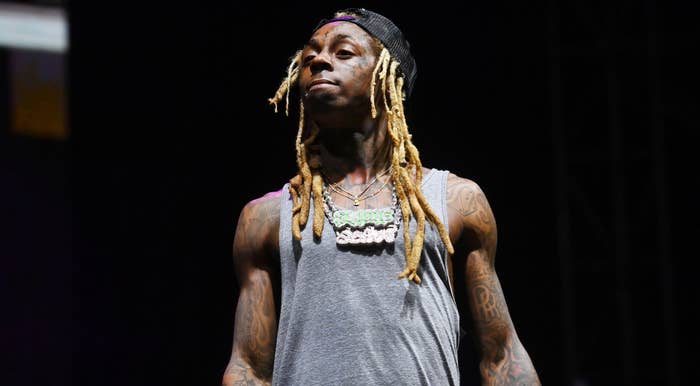 More than a decade since its release, Lil Wayne's 2011 mixtape Sorry 4 the Wait is now available on streaming services with four new songs: "Cameras," "Lil Romeo," "Anti-Hero," and "Bleu Snappin'."
Released in July 2011 ahead of his highly anticipated album Tha Carter IV, the project marked Wayne's first full-length offering since returning home after serving eight months in New York's Rikers Island prison. The 12-track mixtape sees Tunechi rap over some of the biggest hits of 2011, from Drake's "Marvin's Room" and Waka Flocka's "Grove St. Party" to Adele's "Rolling in the Deep" and Miguel's "Sure Thing."
Sorry 4 the Wait is the third Wayne mixtape to be reissued on streaming services, following 2009's No Ceilings and 2015'sFree Wheezy Album, both of which hit DSPs in the summer of 2020. Unfortunately, the highlights of Wayne's mixtape run from 2004 through 2007 are still not available on streaming platforms, which is a shame considering we're still waiting on classic projects like 2004's The Prefix, 2005's The Suffix, 2006's Dedication 2 and 2007's Da Drought 3.
Thankfully, Wayne is working on bringing his entire mixtape catalog to streaming services, which the rapper's long-time manager Cortez Bryant revealed in September 2020 during an interview with Fake Shore Drive's Andrew Barber. 
"Now with streaming, I think that we want to put out everything man, all the mixtapes," Bryant said. "We want everyone to hear [or have them] discover [his mixtapes]. At least that's where everybody listens to music, so they're not forced to go into their iTunes catalogs from back in the day of what they downloaded. We want to make sure it's at their fingertips on streaming platforms."
Listen to Sorry 4 the Wait now on all major streaming platforms. Wayne also shared the visualizer for "Cameras" featuring Allan Cubas, check it out below.