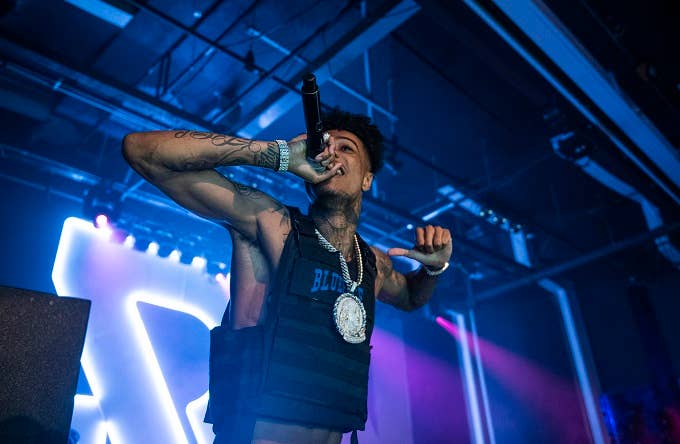 There were no shortage of tributes to Nipsey Hussle in the immediate wake of his death. The rapper and entrepreneur was toasted by artists, elected officials, and fans after being murdered in front of his Marathon clothing store. After Southern California stalwarts like the Game, Snoop Dogg, Dr. Dre and Schoolboy Q paid homage to the late artist, some fans were wondering if newer acts like Blueface would speak out.
The man behind "Thotiana" showed his respects with a post to his Instagram Stories Wednesday night. Blueface posted a video of himself vibing to a Nipsey Hussle song at Boston's Bijou nightclub with the caption "Rip nip."
The respect between Blueface and Nipsey was mutual. Hussle defended Blueface when he was getting roasted over not knowing the details of his record deal. Hussle, who was renowned as a businessman in addition to his music, pointed out that no one knows the ins and outs of their contracts without having the papers in front of them. Hussle refused to pile on Blueface in an interview with hometown radio station Power 106.
"He's doing well, so keep on," Hussle said. 
People looking to pay respects to Hussle personally will get the chance later today. He's being celebrated with a Thursday memorial service at the Staples Center and a funeral procession that will take his casket throughout the city.