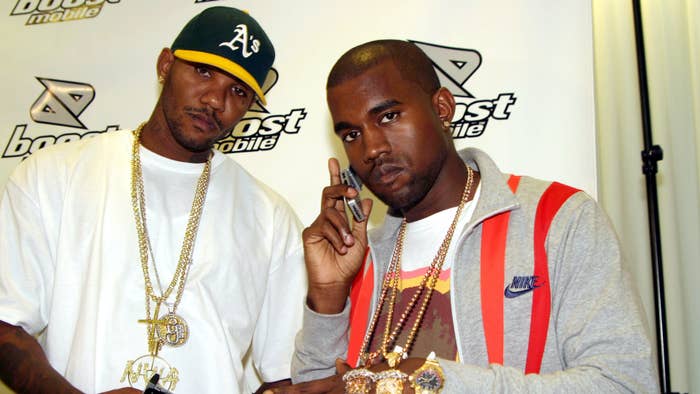 The artist formerly known as Kanye West kept his word. After a good amount of footage featuring The Game and Ye hitting the studio surfaced this week, the pair released a new track titled "Eazy" on Friday. 
The song arrives after a video of Ye on a FaceTime call with DJ Premier was uploaded by designer Tracey Mills. During the call, Kanye, who was in the studio at the time with The Game and Pusha-T, revealed that he was planning on releasing a track on Friday and asked the legendary producer if he'd be willing to add some scratches to the project. 
"We're starting a whole…we about to just control the sound of music, it's up to us now, period," Ye said to Premier on the call.
"Life should be eazy for everybody, we make the choice to complicate it for ourselves and others. Change your perspective and change the world," Game said in a statement shared with Complex.
Take a listen to "Eazy" below, which is a Spotify exclusive for 24 hours.
Unsettling cover art shared by Ye and Game ahead of the new song's release was quickly linked by fans to the 2013-era work of Nick Knight, a photographer and artist (and founder of SHOWstudio) whose collaborative history with Ye includes the oft-referenced video for "Bound 2."
Notably, all of this comes amid continued chatter surrounding a potential sequel to Donda. Earlier this month, Steven Victor exclusively confirmed to Complex that—in his words exactly—Ye had "started working on his new masterpiece Donda 2."
Meanwhile, Julia Fox—who can currently be seen on HBO Max in Steven Soderbergh's film No Sudden Move—revealed in the latest episode of her and Niki Takesh's Forbidden Fruits podcast that she recently heard some "fucking insane" new songs when in the studio with Ye and Future.