Beyoncé's iconic Coachella performance has now been repackaged and presented in her surprise live album, Homecoming.
Alongside cuts she performed during the festival, track 36, "Lift Every Voice and Sing - Blue's Version" comes in the form of her daughter Blue Ivy Carter presenting her own rendition of the song. While it's no surprise Bey would feature her daughter on the project, a closer look on TIDAL and Spotify reveals that Blue now has an artist profile on streaming services.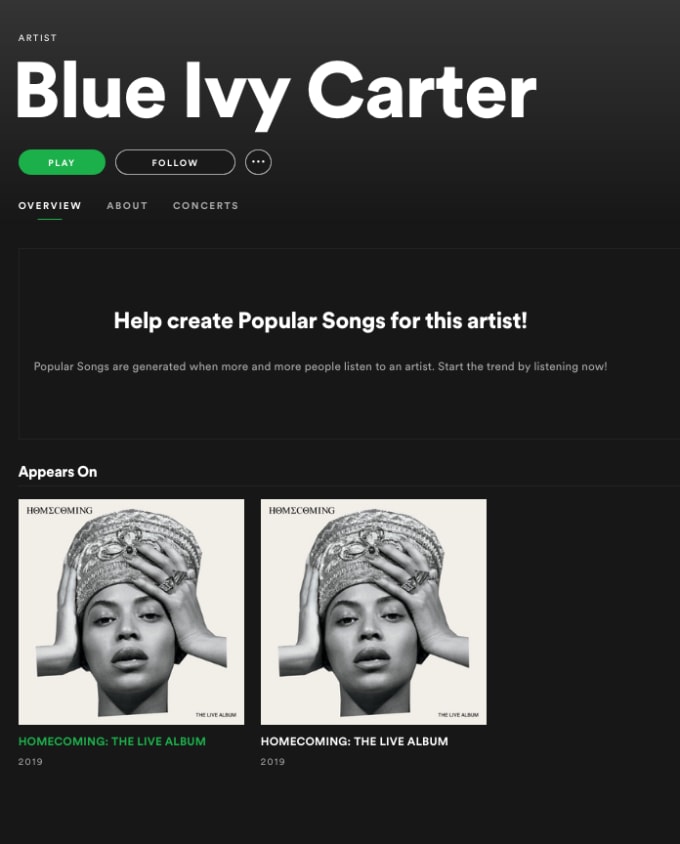 Considering the fact that she was on both of her parents' albums previously, it is plausible to think that a profile would've been set up sooner. In 2012, Blue Ivy's historic appearance on JAY-Z's "Glory" (credited as B.I.C.) solidified her spot as the youngest performer to land on the Billboard charts (she was only two days old at the time).
The now-7-year-old also made an appearance on "Blue," featured on Beyoncé's self-titled surprise album in 2013, as well as the Hov song "Blue's Freestyle / We Family" on 4:44 in 2017. And although she was officially credited as a featured performer, she never had an individual artist profile on streaming services.
While this is not a guarantee that she will become a singer or rapper like Bey or Jigga, this is certainly a move that can set her up for that route, should she choose to do so.