With the release of his debut album, Platinum Fire, Arin Ray officially made his way onto center stage. The 23-year-old singer-songwriter from Cincinnati had been near it before, as a teenage contestant on the The X Factor in 2012. He skirted the periphery, once again, when he began writing songs for Chris Brown, Young Thug, Nicki Minaj, John Legend, and Jeremih.
Upon dropping Platinum Fire last March (and the deluxe edition in December, featuring three new songs, including one with R&B legend Babyface) Ray was able to focus on himself as a complete artist. His new video for "Reckless," a bonus track on the deluxe release, shows him having more fun than fans might be used to seeing. "A lot of my music and my videos have been serious," he explained over the phone from L.A. "But this one, we just wanted to have a lot of fun, and just kind of party, you know what I'm saying? Turn up. It was a cool moment for us and a type of song I really hadn't done yet."
In addition to breaking down the inspiration for the video, Ray also spoke with Complex about who he's looking forward to collaborating with on his next album, and why there's no current king of R&B.
(This interview has been edited and condensed for clarity.)
Who came up with the treatment for the video?
The video treatment came about with Keoni Marcelo, the director. He just wanted it to be a little more fun, a little more different than what I've been on before. Because a lot of my music and my videos have been serious. But this one, we just wanted to have a lot of fun, and just kind of party, you know what I'm saying? Turn up. It was a cool moment for us and a type of song I really hadn't done yet.
You said this video is a little lighter than your previous videos. Do you feel this video still reflects who you are?
For sure. It kind of reflects more… I'm not wild, but just fun. I see the video as fun and having a good time. I think it shows a different side of me than when I go out not in front of too many people—when I'm with my friends, or say, a house party. It's not something I do every day, but if I go out, go to a party and let loose, have a couple of drinks, you might see that energy out of me.
Great. So, aside from that, there are a lot of women in this video; a lot of scantily clad women. Who is this video for?
That's a good question, I like that! I don't think there's specifically a target, I think it's for everybody. It's for people who like my music, who want to enjoy it and have a good time. Not too much thought into it other than just literally trying to make it fun and a bit more edgy in a way.
the lyrics ain't the sweetest lyrics, but it's definitely for the fun people.
This is for a bit more edgy people, because the lyrics ain't the sweetest lyrics, but it's definitely for the fun people. It's all fun.
Just to clarify, you are not typically used to having many women touching all over you at the same time? [Laughs.]
[Laughs.] Basically, yeah. I've never done that in a video. It's not like, my everyday life.
You never know, that's the life of some of these artists out here.
Mostly, my life [consists] of working in the studio, shows, my son, my family. That's really what I be on, but I definitely like to have some fun. I like to dab in some of that too.
Have you ever worked in a restaurant setting, like in the video?
No, I've never worked in a restaurant. My only job [outside of music] was as a camp counselor. Never looked back.
Got you. I saw that you recently asked your fans on Twitter who they would want you to collaborate with on your next project. I know they were giving you a bunch of suggestions, but do you have anybody in mind?
Yeah, for sure. There's a lot of people in a lot of different genres. Off the top of my head, I've really been trying to figure out how to get in touch with Kevin Parker from Tame Impala. I'd definitely like to work with Swae Lee. I like listening to him a lot lately, I like his vibe. The Beyoncés of the world, the Rihannas, obviously. There's a lot of people, man. Maroon 5—you know, Adam Levine is crazy. A lot of people on Interscope, too. We've got a whole big roster that I'd love to dive into, because the [label] is unique and we have a lot of different styles. 
But you know, God blessed me to be able to work with a lot of people that have already wanted to work with me, too. I would like to work with some of the people that I [wrote for], to a larger extent. Like, the Chris Browns. Maybe doing a record side-by-side instead of writing or whatever. But shoot... working with Babyface was literally one of the things I wanted to do my whole life.
Absolutely.
And being able to do that is still surreal to me. I really don't... I have a record with Babyface. Jesus.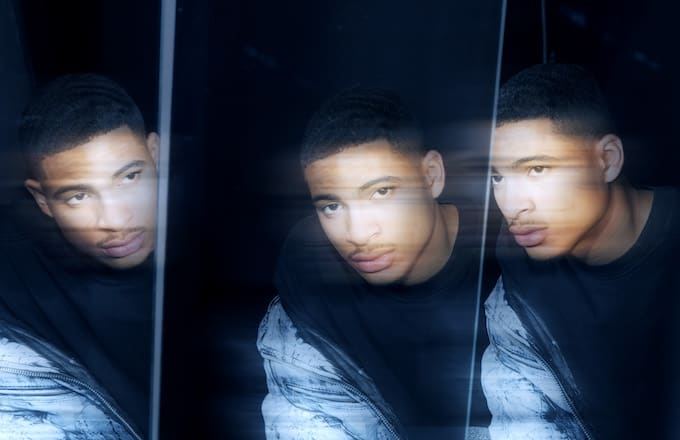 Yeah, that's a big deal. Speaking of legends in the R&B game, I have a two-part question. The first part of the question is, what shoes are you trying to fill in R&B right now?
Every shoe. I want to be the biggest artist in the game. I want to be doing the best R&B. I feel like at this point, I'm doing a really good job. Hopefully, I continue to get better so everybody sees my progress and everybody sees me working, but yeah. I intend to be the head honcho. I really want to be the best and collab with the best and work with the best.
And you said there's two parts to the question, right?
Correct. I'm sure you're aware of this conversation about the reigning king of R&B. Do you have any opinion at all, or are you just going to stay out of the fight?
I feel like there ain't no king of R&B right now, as far as this generation. No. If we were talking about 2000s, we could be talking about a lot of people. There's a few people who are really great, but as far as the reigning king, no.
You'd have to just give it to one of the OGs, like an Usher or one of those guys. Even Chris, for a time, was at it. But it's just a different time. I think people are making great music, and I think you really have to look at, what is R&B? I feel like a lot of these dudes are rappers: just rapping the chorus, just singing in [a] tone. And that's cool. That's dope. But I don't think there's a king of R&B right now. Hopefully, I can obtain that by working super hard. But the king of R&B? I don't even want to be that. I want to be the king of all genres.
This project I'm working on right now, is mainly for the sole fact to let these people know what the real R&B is like and what it's supposed to be. Me? I'm a weirdo. I like doing all the weird stuff that people don't necessarily like, that doesn't work for like, radio or whatever. But at this point, I'm really just trying to give the fans what they want.
I think R&B right now could be really big, and I just want to push that because we're really missing that emotion and that soul and that feeling right now. Shoot, I think the women need it. I think everybody needs it. But as far as the king of R&B, ain't no king. There definitely is a queen, though. The women are killing everybody right now. Everybody. SZA, Ella [Mai], H.E.R. She's five-time Grammy-nominated. I'm trying to get on their level.
I think the women right now, you can give it to them. You can give them king or queen or whatever. But shoot, as far as a king, we gotta step up our game.