Miley Cyrus and Mike Will Made-It Are Reuniting on Her New Album
Miley Cyrus is pivoting back to hip-hop.
Getty
Image via Getty/Christopher Polk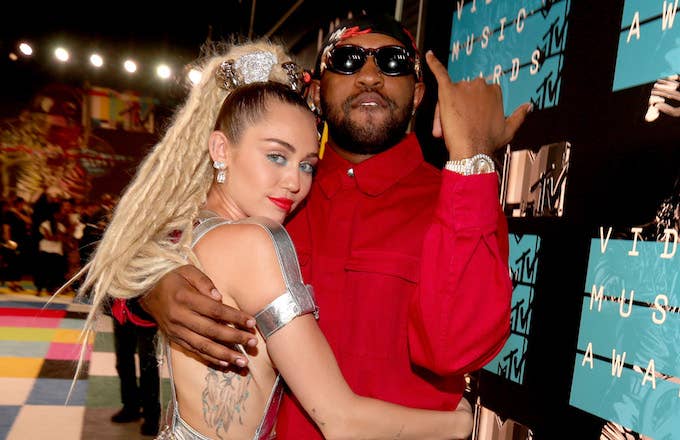 Following her 2017 country departureYounger Now, Miley Cyrus has decided to pivot back to hip-hop on part of her next album, reuniting with producer Mike Will Made-It. Mike helped craft her 2013 album Bangerz, and formed a highly publicized relationship with the singer in the years that followed. 
Cyrus launched into her new album cycle with the single "Nothing Breaks Like A Heart," a collaboration with Mark Ronson expected to appear on his next solo album. That project is set to come out sometime next spring, with Miley's album releasing shortly after. 
In conversation with95.5 PLJ in New York, Cyrus confirmed there will be some hip-hop elements included on her new album, with records produced by the Ear Drummer producer. Other tracks will be produced by Ronson and Andrew Wyatt of Miike Snow.
"I think this ["Nothing Breaks Like A Heart"] is a nice introduction to the sound that we've got going on with the next record," Cyrus said in the interview. "Mine is a little heavier than ["Nothing Breaks Like A Heart"]. A song that he and I have done together is more rock driven, modern Debbie Harry or Joan Jett. Then we've got songs with Mike Will that lean more hip-hop and songs with Andrew Wyatt that lean more pop/alternative. I just have kind of everything."
Cyrus and Ronson also stopped by Beats 1 on Tuesday, revealing that she expects her album to come out around June 2019.

Reuniting with Mike Will is surely going to turn heads, after Cyrus distanced herself from rap music in general. She told Billboard in 2017 that she no longer subscribed to the genre's materialism and explicit sexual content, after years of appropriating the culture. "It was too much 'Lamborghini, got my Rolex, got a girl on my cock' — I am so not that," she said at the time. Cyrus later walked back the comments.
Last month a lawsuit against her and Mike Will's collaboration "23" was dropped.