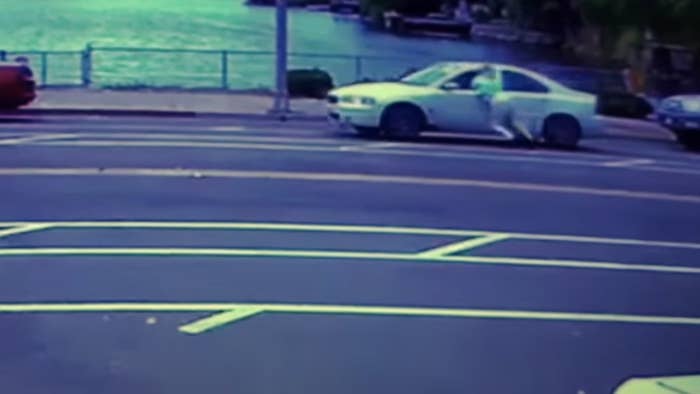 Surveillance footage from the scene of an alleged robbery in California shows the moment a woman was briefly dragged from the suspect's car while trying to get her Gucci glasses back.
The robbery, per a report from regional outlet KTVU, took place in the Alameda area on Sunday. At the time, the 69-year-old woman was eating in her Mustang while talking to someone on the phone. The alleged robber pulled up behind the woman, at which point he approached the passenger side of the vehicle and snatched the woman's purse.
As the alleged robber started to drive off in his vehicle, the woman—as seen in a widely shared video—reached into the car in an effort to grab her prescription Gucci glasses. The driver did not stop, however, resulting in the woman being dragged for several feet before falling to the ground. Though the woman suffered minor injuries during the incident, she said she felt "good about it" in terms of her snap decision to fight back.
"I'm pissed off because this guy really was looking for somebody, and I feel violated," she told KTVU. "But I feel good because I put up a fight."
Police are reported to be pursuing multiple leads in their investigation into the robbery. Additional info on the suspect, including details on what all was allegedly stolen from the woman, has not been released.
Complex has reached out to a rep for the Alameda Police Department for comment. This story may be updated. At the time of this writing, the department had not shared a news release or public statement regarding the robbery, aside from comments included in this age-restricted video on YouTube.