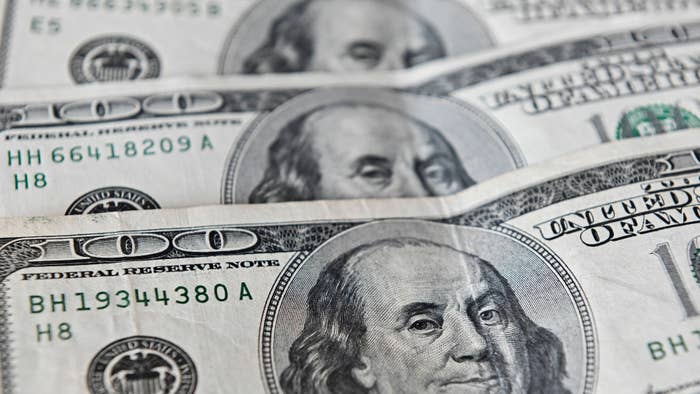 One of two men involved in three bankrobberies and an attempted robbery in Michigan has been identified by authorities after he left behind a demand note written on his own paycheck stub. 
According to a recently unsealed criminal complaint obtained by ClickOnDetroit, Collin Carl Love Jr., 23, entered the Community Choice Credit Union bank on Feb. 4 and handed a note to the teller, which read, "I want $20,000 dollars. All 100 dollar bills no dye packs no tracking devices or funny business I have a gun and I will shoot somebody PSA give me this check back when done!" 
The teller went to the back of the bank to retrieve the money, and informed their manager of Love's presence. As the manager contacted the police, the teller returned to hand over $4,000 to Love, who fled the scene and left behind his demand note. 
The note was written on a paycheck stub belonging to someone who worked at a temp agency, which later informed authorities that Love was the owner of the account. The agency also provided investigators with Love's cellphone number. Authorities believe Love matched the description of the suspect. 
Another bank robbery occurred on Feb. 10 at the Christian Financial Credit Union in which Love gave a note to the teller, which read, "I WANT 10,000 All 100′s NO Dye Packs or Tracking devices I Have a Gun and I will shoot SOMEbody NO Funny business!" The note was written on—you guessed it—a paycheck from a temp labor agency. 
However, this time around, it appears Love blocked out the name on the check and account information. The temp agency listed on the check no longer existed. Still, he fled on foot after receiving $9,000 from the teller, and left the note.
FBI agents enlisted the help of the Michigan State Police lab, which found Love's index fingerprint on paycheck. 
Investigators suspected Love was involved in both robberies based on a number of similarities, which included clothing and wording on the demand note. 
The complaint indicates there's probable cause to charge Love with bank robbery and incidental crimes, as well as conspiracy to commit bank robbery.