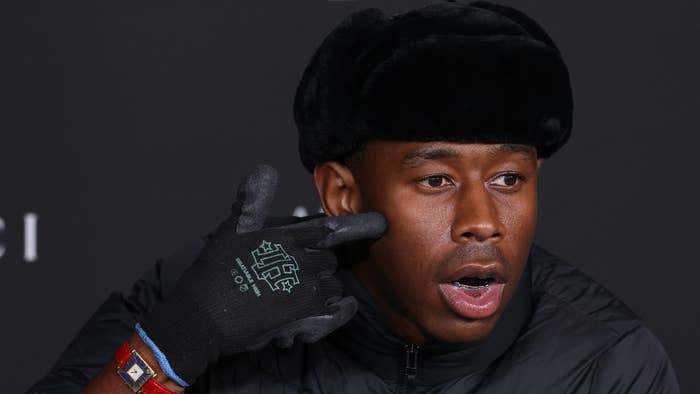 Fresh off a year stacked with artistic feats, Tyler, the Creator has given fans even more to celebrate with Tuesday's arrival of a new interview during which the Call Me If You Get Lostartist shouted out a number of fellow creatives for their confident style choices.
Speaking with Jonah Weiner and Erin Wylie's reader-supported Blackbird Spyplane newsletter, Tyler was asked to reveal whose "way of dressing" he admires, initially resulting in a show of well-earned admiration for the apparel choices of the elderly among us.
In addition to older men and women "who have the illest style," Tyler also made a point to mention a number of familiar names of varying ages due to their own individual fashion prowess. Among those getting a special nod from Tyler here are Jeff Goldblum, Tracee Ellis Ross, Cam Hicks, and Kanye West. The latter, in Tyler's opinion, "means it" with his currently preferred silhouette built atop Balenciaga Crocs.
But it's the inimitable André 3000 who gets the title of "style god," per Tyler.
"He's the style god. That man—his skin? Immaculate!" Tyler said of 3 Stacks, who was among those who showed up for a recent Golf le Fleur event. "It's so beautiful, it's like super dark but honey glazed. I can't explain it. I wanna eat André's face. The gap between his teeth, his mole—I love that man and he's cool as shit."
Tyler also had some highly quotable and delightfully to-the-point comments to share regarding refreshingly genderless approaches to fashion, particularly in light of his recent nail polish and fragrance releases. As Tyler explained, any pushback against such projects is rooted in people clinging to the past.
"It's a fucking smell—what does my big-ass dick have to do with whether it smells good or not?" Tyler said. "People will go, 'Well, back in the day…' But I'm talking about now. Stop being obsessed with the past. What does this good smell we're enjoying have to do with whether I cum out of my dick or not?"
The full experience is absolutely worth your time and can be enjoyed by hitting up the Blackbird Spyplane site right here.
Also this week, Tyler was announced as being one of a number of artists enlisted to contribute to Nigo's upcoming I Know Nigo album. Also featured on the record—which follows word earlier this year that the A Bathing Ape creator had inked a deal with UMG by way of Victor Victor Worldwide—are Lil Uzi Vert, ASAP Rocky, Kid Cudi, and more.