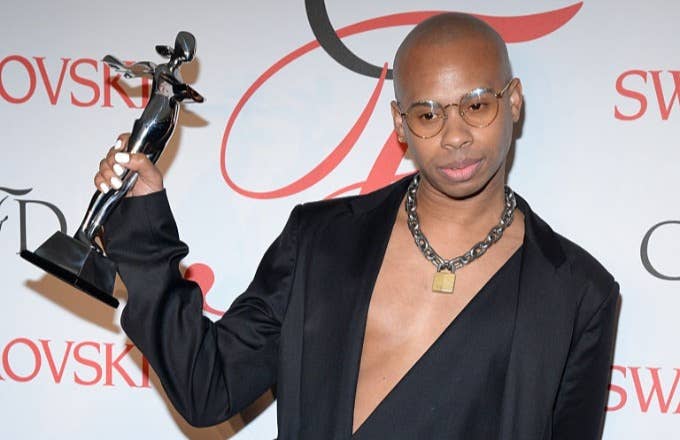 After nearly two years off the grid, Hood by Air is resuming its existence.
Founder/designer Shayne Oliver, who's also worked with Helmut Lang and Diesel, gave SSENSE the exclusive word in an interview published this week.
"Hood by Air's fundamental ideas never have or will change, but I did change, though, and some people around me," Oliver said. "There came a point, towards the end, when I was pushing forward just to push and out-do myself. I needed a minute to figure out that it's more about exposing the issues, and then also creating resolutions for them. The latter was somehow non-existent at the time, so I just felt the need to take time off, and to re-think my/our decisions."
Moving the brand forward, Oliver added, will include the realization of his desire that everything be "very clear and direct" in its presentation. The pieces are said to have been inspired by Oliver's own thoughts on issues like materialism.
Oliver also spoke with noted fan Kanye West for Interview mag Wednesday, revealing that his decision to go into "hibernation" was inspired by his respect for the brand's legacy. When West—who said he considers Oliver "the strongest of all of us"—asked about the brand's oft-repeated critical assessment of having "elevated streetwear," Oliver gave his own definition of elevation.
"When I look at streetwear, I don't ever think of it as coming from a cool club," Oliver told West. "For me, elevating it is about exposing how those items have affected other walks of life, other than just the cool club. In itself, I think that opens streetwear up to a larger market of people, because the culture it comes from is very insular."
In that same discussion, West revealed that he's "been fighting and struggling and arguing and talking and having conversation after conversation about being the creative director of Adidas. ... It's just fucking obvious, right?" West told Oliver.