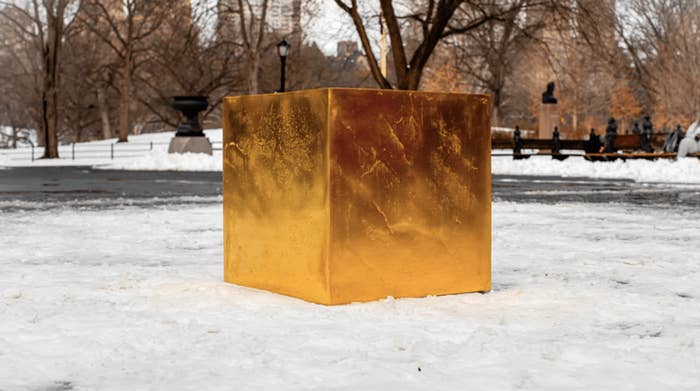 Today in the world of eccentric art, a gold cube that's worth $11.7 million was placed in New York City's Central Park with its own security detail, and many are wondering the reason behind it.
According to ArtNet, the "Castello Cube" is the latest piece of conceptual sculpting created by the German artist Niclas Castello and was displayed on Wednesday in the famed park for one day only. It is made of 400 pounds of Nevadan gold and was cast in Aarau, Switzerland. The reason behind the extremely expensive cube? You guessed it, it's all a means to promote the launch of the artist's upcoming non-fungible token.
Castello launched the Castello Coin in tandem with the cube and it can now be traded as $CAST for purchase online at an initial price of $0.44 each. The accompanying NFT auction is scheduled for Feb. 21. While the over-the-top promotional art was impressive to some New Yorkers, others questioned its purpose and whether flaunting pure gold in the same park where homeless people sleep, even for a day, is morally right.
Castello's Cube was removed from Central Park last night and was displayed at a private dinner on Wall Street to commemorate the installation and the upcoming launch of the artist's NFT.