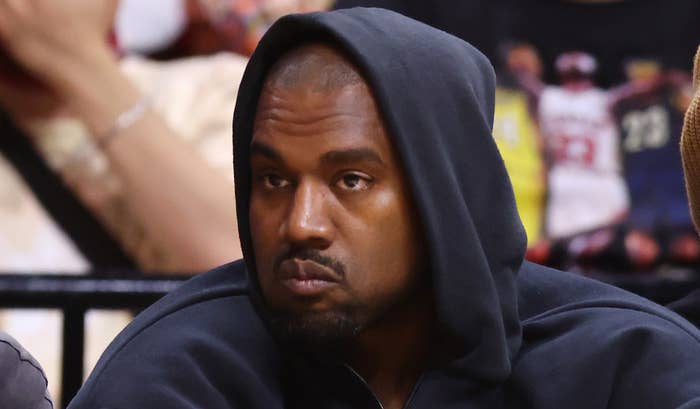 Skechers apparently wants nothing to do with Kanye West.
According to CNBC, the embattled artist was escorted out of the company's L.A. headquarters Wednesday after pulling up unannounced. Skechers representatives say Kanye, who was not invited to the office, was "engaged in unauthorized filming," and was briefly addressed by two executives before he was removed from the building.
"Skechers is not considering and has no intention of working with West," the company said in a statement. "We condemn his recent divisive remarks and do not tolerate antisemitism or any other form of hate speech. The Company would like to again stress that West showed up unannounced and uninvited to Skechers corporate offices."
The news comes just days after Adidas announced it was terminating its years-long partnership with Kanye's Yeezy brand. The move reportedly took a massive toll on the rapper's net worth, taking it from an estimated $2 billion to $400 million. Like Skechers, Adidas condemned Kanye's recent comments about the Jewish community, including a since-deleted tweet in which he pledged to go "death con 3" on Jewish people.
"Adidas does not tolerate antisemitism and any other sort of hate speech," it wrote in a statement. "Ye's recent comments and actions have been unacceptable, hateful, and dangerous, and they violate the company's values of diversity and inclusion, mutual respect, and fairness."
As pointed out by TMZ, Skechers was founded by Robert Greenberg, a Jewish businessman. His son Michael Greenberg currently serves as company president.
Kanye's anti-Semitic remarks have been widely condemned by entertainment and fashion heavy-weights. Companies like entertainment studio MRC, Creative Artists Agency, Foot Locker, and The RealReal confirmed they would no longer work with Kanye and/or would stop carrying his Yeezy products. Fashion house Balenciaga also announced it had no plans to work with Kanye in the future.