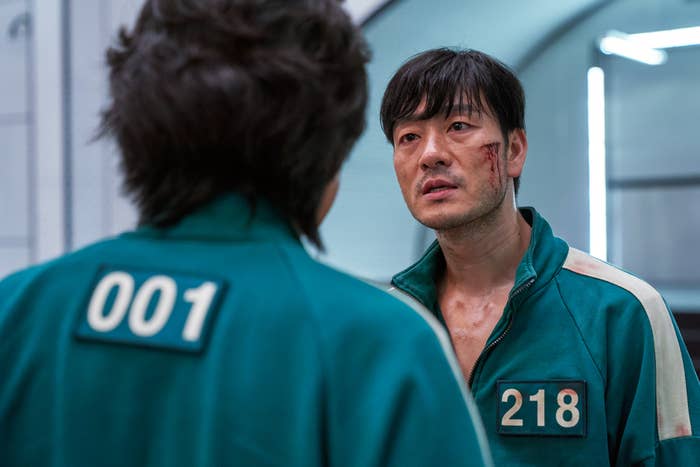 UPDATED 10/12, 2:35 p.m. ET: Netflix is further branching out in the merch department by partnering with Walmart on a broad selection of items—with their own dedicated hub—including toys, games, books, and apparel related not only to Squid Game but also Stranger Things, The Witcher, Queer Eye, Nailed It!, and more. Some of the items will be exclusive to Walmart.
Variety notes that the companies are the biggest streaming service and biggest retailer on earth, and that it's Netflix's first deal of this kind. The outlet writes that "Walmart's Netflix Hub will provide 'exclusive experiences' for fans to engage with popular Netflix shows in 'innovative ways,'" citing the retailer. This includes "Netflix Fan Select," of which Walmart U.S. executive vice president of entertainment and toys Jeff Evans said, "Think of it like a kick starter for Netflix products. We will offer a pool of items and customers will be able to vote for their favorites. Once an item receives enough votes, we'll work with our supplier partners to develop them at scale."
Get a peek at few items here:
See original story below.
With fans still obsessing over Netflix's wildly successful Squid Game series, the streaming giant has dropped some new customizable merch.
The merch collection consists of ten different products—one hoodie and nine t-shirts. Each can be customized, allowing for users to decide between the original Korean logo or English logo. The hoodie has three different icons from the show to choose from, and several items let you pick between one of four memorable player numbers from the show.
Despite the huge success of the show, which has become the No. 1 series on Netflix across 90 different countries, it's still not clear if Squid Game will get a second season. In a recent interview, Netflix global TV head Bela Bajaria said the streamer was "upbeat" about the possibility of future seasons. Creator Hwang Dong-hyuk has a busy schedule, though, with a film and other projects in the pipeline. Bajaria noted that Netflix is eager for a second season with Dong-hyuk still involved, and is currently "trying to figure out the right structure for him."
Check out some of the official Squid Game merch below, and purchase some here. The shirts go for $34.95 and $39.95, while the hoodie will run you $49.95.