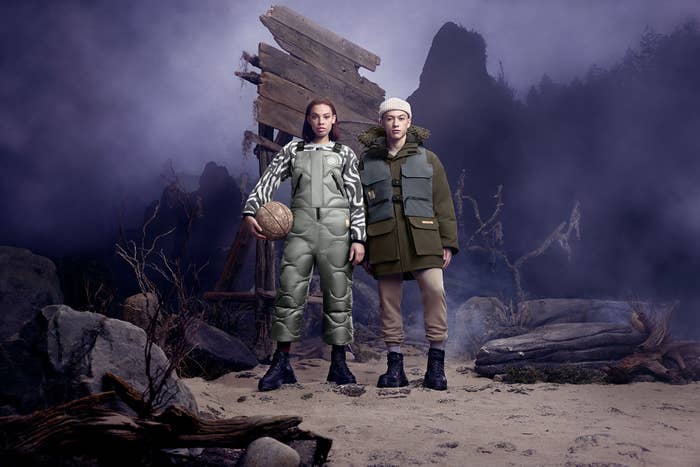 It seems Salehe Bembury has been leaving his fingerprint on every major brand lately. And we mean that pretty literally. The red-hot shoe designer's now-signature thumbprint pattern, after all, is a constant through line in his work, present in all his recent collaborations—from New Balance to Crocs to his latest: a capsule collection with Canada Goose and the NBA.
The new collab comes as part of Canada Goose's multi-year partnership with the NBA as the league's "proud outerwear partner," which sees the brand develop an exclusive design collaboration for every All-Star game, with a different designer at the helm each time. Last year, they tapped Rhude founder Rhuigi Villaseñor, who gave the Canadian outerwear brand a SoCal spin. This year, they recruited Bembury, who's shifted sneaker culture over the last decade, making his mark on Yeezy and Versace with his innovative, familiar-yet-polarizing style philosophy. The New York native has also become something of a nature influencer during the pandemic, developing a knack for documenting his morning hikes on Instagram.
For the limited-edition Canada Goose collection, Bembury says wanted to respect the brand's functional heritage while channeling the gloriously eccentric fits of NBA stars in the '90s. "Each player brought a unique perspective to the table that was influenced by their childhood, region, team," he tells Complex Canada. "What had previously not been seen by a mass audience became fashion in its own right… more specifically 'NBA fashion.' Bold patterns, competing materials, layered looks, and confident branding were all there." Think Karl Malone's cowboy hats or Vince Carter's Jedi robes.
The four-piece unisex capsule captures that left-field energy with boldly juxtaposed materials, silhouettes, and patterns. Bembury reimagines the Expedition Parka, Canada Goose's OG insane-weather jacket, with an overstated Chenille hood and detachable vest. The Concord Fleece, meanwhile, gives Fresh Prince vibes with a dauntless, all-over thumbprint design. Both items will be made available to all players competing at this year's NBA All-Star game on Feb. 20. Rounding out the line are a Signal Vest with an embellished front hem and a Tundra Bib featuring adjustable elastic suspenders as well as an interior drawcord for a convertible fit.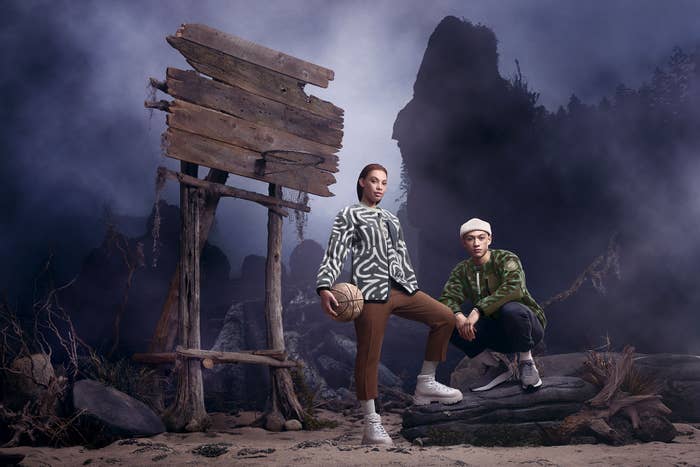 Each piece comes finished off with a grand triumvirate of branding: the Canada Goose logo, the NBA logo, and Bembury's tonal disc and label featuring his unmistakable fingerprint motif. (Who knew biometrics could look so hard?!) The collection—which will come with a 'Play in the Open' campaign video that sees a stop-motion version of Bembury revelling in various outdoor activities—launches Feb. 11 at select Canada Goose retail stores, wholesale partners, and online. 
We caught up with Bembury over email to find out about the inspiration for his Canada Goose x NBA collection, his love for the great outdoors, and whose tunnel fits he's been impressed with lately.
What made you want to link up with Canada Goose for this collab?
Growing up in New York City, there were always one, or a few, staple brands for specific items sitting on a spectrum of value and prestige. Canada Goose has always been one of those staples, one that communicates quality and prioritizes function.
Coming from an industrial design background and spending much of my time outdoors, it is important that what I use and design functions at the highest level. Canada Goose and I align in that belief and all three brands intersect on using "craft" to solve problems.
I utilize my design ability to educate, give back, and most consistently create products that bring people joy. Canada Goose uses its long heritage of quality and function to solve for cold-weather environments. The NBA uses the abilities of its athletes to give back and enrich communities across the world. None of these initiatives would be possible without the foundation of each entity's "craft."
I am most excited about the Expedition Parka because it is a Canada Goose icon. I am extremely humbled to be able to put my name on it.
Explain your vision for this line and how you put your own unique spin on it.
The Salehe Bembury brand is versatile and still taking form but at its foundation is curiosity and I use colour, material, and silhouette to communicate that.
I like that idea of "honouring" the original design but communicating it through a different lens. The vision for the line is that the grassroots Canada Goose consumer will find the familiar, while the new consumer will be instantly educated about Canada Goose's heritage.
The '90s were a time of fashion exploration and the collection is influenced by the bold juxtapositions of pattern, silhouette, material, and function that '90s NBA fashion embodied. I am exploring this ethos within this collection.
One consistent element of my design is the "fingerprint." It is seen both literally, and in implicative patterns which can be seen in this collection, most explicitly in the Concord Fleece.
There seems to be a recurring theme in this campaign about breaking the rules—of both style and reality. Can you walk me through that concept? Why is it important to you?
The collection is inspired by the freedom of '90s NBA style. Expanding on that—each player brought a unique perspective to the table that was influenced by their childhood, region, team.
What had previously not been seen by a mass audience became fashion in its own right… more specifically "NBA fashion." Bold patterns, competing materials, layered looks, and confident branding were all there.
For example, Charles Oakley was often spotted in puffy jackets while Karl Malone was seen in cowboy hats. Each player composed a beautiful juxtaposition of style without rules.
This collection celebrates the idea of a strong graphic element to associate with a team. In this case, the team logo is the "Canada Goose and Salehe Bembury" collaborative mark.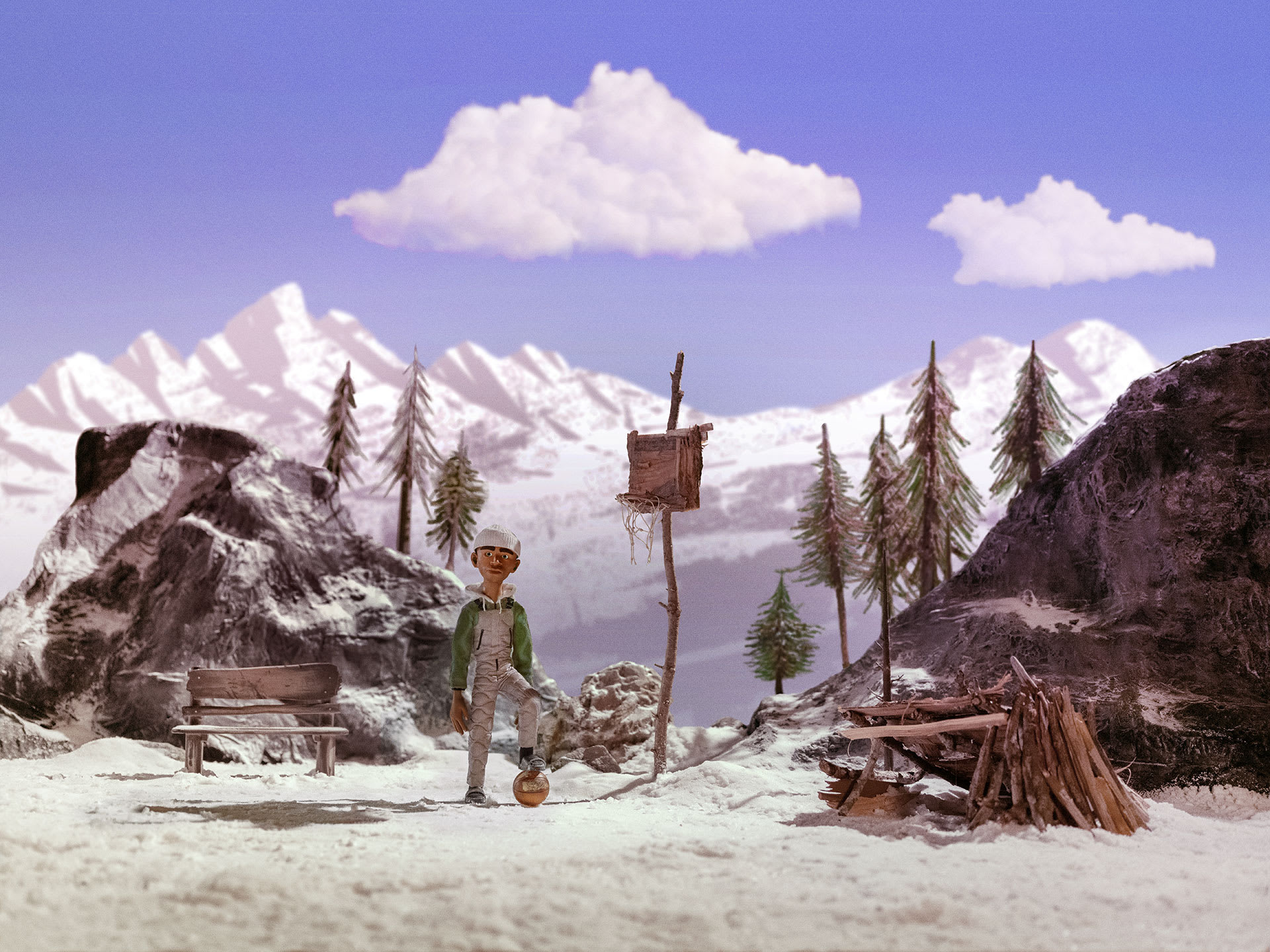 I know you've really gotten into hiking and the great outdoors lately. Talk about how you developed this passion, and how much of it has influenced this new collection.
My background has meant that I have always spent a lot of time outdoors. Sharing my relationship with the outdoors unintentionally sparked a conversation and created a community. During a period of time where we were physically stagnant because of the pandemic, the outdoors became a place of solace for those close and distant to it.
When a product can also motivate one to do, go, or play, I feel that said product achieves exponential value—that's Canada Goose's 'Live in the Open' ethos and it permeates our partnership, the collection, and 'Play in the Open' campaign.
The "universe" that has been created for the Play in the Open campaign is an illustration of this lifestyle. "Play in the Open" is a conversation of discovery through experience, whether hiking the Grand Canyon, or simply taking a moment to take a few deep breaths in their local park. The intention of this collaboration is rooted in "play."
The great thing about design is that it is one of the most powerful forms of communication without saying anything at all. With this in mind, the locations, color palette, wardrobe, and hobbies were curated to speak to a wide range of outdoor enthusiasts. We also prioritized "inclusion" as a theme. Outdoor culture is often exclusive to certain groups, so we wanted to take this collaboration as an opportunity to welcome a new community of curious minds into the outdoors.
At NBA All-Star Weekend, I know there will be a Canada Goose and NBA Crossover activation that will include a life-size recreation of a fishing shack scene from the campaign. How big of a fisher are you? Talk about that side of yourself.
The activities chosen for the campaign are fishing, basketball, and huggling. These are all personal hobbies of mine.
I grew up fishing every summer in Menemsha, Martha's Vineyard. My dad and I would fish for flounder, bass, and porgy. These days I don't get to fish as often, but I have my rod and tackle box cleaned and ready to go when the opportunity presents itself.
How much experience do you have with Canadian winters?
Not a lot, but despite the dry Southwestern terrain I often find myself in, I found it important to consider the different environments the audience may currently find themselves in or have memories experiencing.
I understand the need for versatility and customization. Los Angeles' weather can require anything from a shirt, hoodie, or a heavy jacket. This temperature change can occur from location or time of day. Often one item of clothing is not sufficient for a full day in Los Angeles. The removable vest on the Expedition Parka and cinchable legs of the Tundra Bib speaks to this need for customization.
How big of an NBA fan are you? What excites you most about the league this year?
I have been a fan of the NBA my entire life. The NBA was a big part of the relationship that was formed with sneakers from a young age. I am most excited about the Knicks and our potential each and every year.
Which NBA player has impressed you with their style lately?
Jordan Clarkson only takes headshots.
We've been seeing you dive into more collaborations the last couple years. It seems everyone wants to work with you right now! What's it like to be this in-demand?
Thank you. I feel very fortunate at the opportunity to partner with so many great creatives. Collaboration is a huge source of personal inspiration. I get the privilege of encountering so many people who are passionate about their crafts and their vivid imaginations are a good source of inspiration.