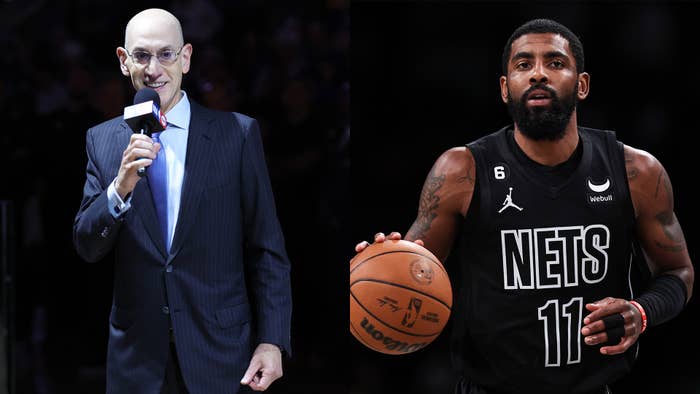 NBA Commissioner Adam Silver says he is "disappointed" in Kyrie Irving for not having made an "unqualified apology" for linking to an anti-Semitic film on social media.
In a statement shared Thursday, Silver also referenced the recent joint announcement made by Irving, the Brooklyn Nets, and the Anti-Defamation League.
"Kyrie Irving made a reckless decision to post a link to a film containing deeply offensive anti-Semitic material," Silver said Thursday. "While we appreciate the fact that he agreed to work with the Brooklyn Nets and the Anti-Defamation League to combat anti-Semitism and other forms of discrimination, I am disappointed that he has not offered an unqualified apology and more specifically denounced the vile and harmful content contained in the film he chose to publicize."
At some point over the next week, Silver added, he and Irving will be meeting "to discuss this situation."
Irving later responded to Silver's statement in an interview.
"I didn't mean to cause any harm," he said when asked about Silver calling out his lack of an "unqualified apology" for what happened. "I'm not the one that made the documentary."
Later, Irving was asked directly if he has any anti-Semitic beliefs.
"Again, I'm gonna repeat," he said in response. "I don't know how the label becomes justified because you guys ask me the same questions over and over again. But this is not gonna turn into a spin-around cycle of questions upon questions. I told you guys how I felt. I respect all walks of life and embrace all walks of life. That's where I sit."
Ye also shared a clip from his interview on Twitter that showed his support, then followed that up with a Shade Room screenshot, writing, "You can't be anti-Semite when you know you are Semite." 
Earlier this week, Irving (as part of the aforementioned joint statement alongside the Brooklyn Nets and ADL) said he opposed "all forms of hatred and oppression." He also addressed the social media post in question, which had been met with widespread criticism from within the NBA and beyond.
"I do not believe everything said in the documentary was true or reflects my morals and principles," he said. "I am a human being learning from all walks of life and I intend to do so with an open mind and a willingness to listen."
That statement's release this week was paired with word that Irving and the Nets would both be putting $500,000 toward various organizations focused on fighting hate.