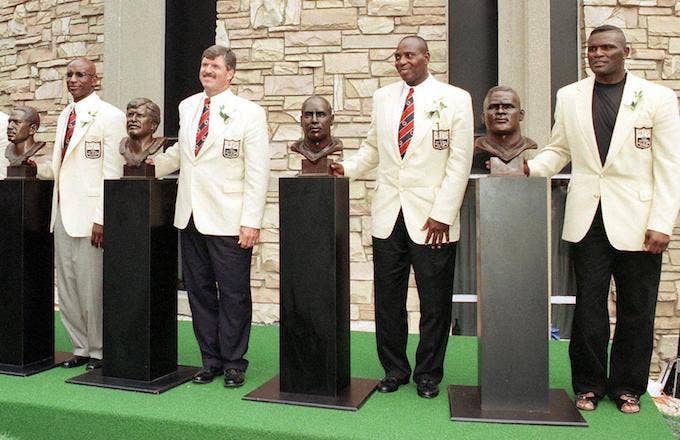 The NFL better listen. A variety of big-name Hall of Famers—Eric Dickerson, Lawrence Taylor, Bruce Smith, Jim Brown, Earl Campbell, Ronnie Lott, Marshall Faulk, Curtis Martin, Joe Namath, Kurt Warner, Jerry Rice and more—formally recognized the hypocrisy behind the multi-billion dollar league and its often-broken former star when they signed a letter to NFL commissioner Roger Goodell on Tuesday. They're threatening to boycott the Hall of Fame induction ceremony unless members are given insurance and a salary, reports ESPN.
Along with the commissioner, the letter was also addressed to NFL Players Association executive director DeMaurice Smith and president of the Pro Football Hall of Fame C. David Baker. The letter didn't mess around burying the lede, either:
We, the undersigned Pro Football Hall of Famers, were integral to the creation of the modern NFL, which in 2017 generated $14 billion in revenue. But when the league enshrined us as the greatest ever to play America's most popular sport, they gave us a gold jacket, a bust and a ring — and that was it.
They go on to spell out what a drop in the bucket—less than $4 million, or "less than that of a 30-second Super Bowl ad, or about 3 cents for every $100 the league generates in revenue"—it would cost to provide health insurance to every Hall member. Not only that, but the Hall members said it would cost less than 40 cents for every $100 in revenue to provide salaries to every Hall member.
The letter also juxtaposes what the NFL does for Hall members with how Major League Baseball provides lifetime health insurance to every player who has appeared on an MLB roster for at least one day, and a lifelong pension for anyone who appeared on a roster for at least 43 days.
Roger Goodell is specifically called out for his $40 million annual salary as part of a $200 million compensation package he got in his last extension. All this while "many of us Hall of Fame players can't walk and many can't sleep at night," the letter says. "More than a few of us don't even know who or where we are. Our long careers left us especially vulnerable to the dangers of this violent sport, especially those intentionally hidden from us."
The Hall of Fame is a big deal to the NFL and the players who drive the league's tremendous popularity. It's considered the highest honor for a former player, and most treat it as such. Goodell and his cohorts at the league office better listen to these demands, or the public relations snafus they've encountered over the last couple of years will feel like a welcome relief.
It might even make sense, following baseball's lead and considering the often brutal nature of the sport, to provide lifetime health insurance to every player who suits up in an NFL uniform.  Maybe that's just being greedy, though.