You've probably heard that basketball was invented by a Canadian a million times—we like to brag about it almost as much as we brag about Drake and The Weeknd. There was a Heritage Minute about it and everything. But even the most patriotic Canadian basketball fan might not be aware that the NBA's first game was played right here in Toronto on November 1, 1946, when the Toronto Huskies and New York Knicks squared off at Maple Leaf Gardens. (Spoiler alert: Toronto lost 68-66, and the Huskies disbanded after that inaugural season.)
And the Association's Canadian roots were on display this past weekend as the league kicked off its upcoming 75th anniversary celebration with a special event held during this year's Toronto International Film Festival: NBA Films For Fans created with OLG.
Even though this year's TIFF was a slimmed-down affair compared to past years, due to social distancing measures, there was still plenty of local star power in attendance for the NBA Films For Fans premiere. Hosted by Sportsnet's Donnovan Bennett, the crowd included Raps superfan Nav Bhatia and Toronto rookies Scottie Barnes and Rexdale's own Dalano Banton, who had just come from the Jays game earlier that night, where Barnes threw out the first pitch.
"This is my first TIFF experience," Banton told the crowd, saying he's been busy soaking up his first offseason as the Raptors' hometown kid: "Just being able to be in this position to spread love to Toronto and show love to my community, where I'm from, that's the main thing for me." ("I didn't know what TIFF was when I came to the city," Barnes laughed. "Someone was just telling me it's a lot of famous people coming into the city for a movie festival or something like that.")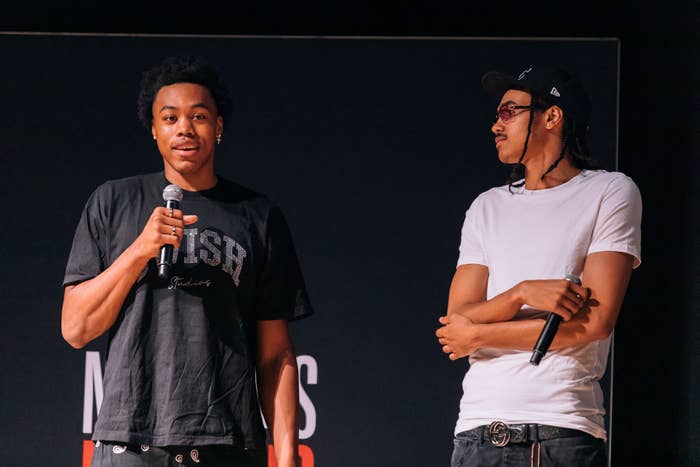 Following a video intro from the commish himself, Adam Silver, the evening featured five short films created as part of an initiative between TIFF, the NBA, and OLG to support Canadian BIPOC filmmakers. What stories they told, and how they told them, was up to the filmmakers—with the shorts ranging from documentary to comedy (the excellent Shorty, featuring a vertically-challenged father/daughter duo) to a video essay dedicated to Kawhi's curse-reversing Game 7 buzzer beater.
"When I was asked to come up with an idea that celebrated basketball in Canada as well as Canada's impact in NBA history, I knew which story I had to tell," explained Kathleen S. Jayme, whose Born Identities charted the creation of the Raptors and Vancouver Grizzlies logos in 1995 and who had previously helmed another Grizzlies-themed doc in Finding Big Country about Vancouver's OG franchise player. "I already had a great relationship with the NBA's first creative director, Tom O'Grady, who reached out to me after my film, Finding Big Country, so when I got the email, I quickly got on Zoom call with him to pitch him this idea and he was so into it."
"As we were putting the story together in the edit room, I kept thinking about how this origin story hadn't been told before and how I didn't even know many parts to the story."
There were only two conditions for the filmmakers: each short had to feature a runtime of seven minutes and 50 seconds or less (for the 75th anniversary, naturally), and had to feature footage from the NBA archives.
Thyrone Tommy—who also had his feature debut Learn to Swim premiere at TIFF 2021—combed through years of pre-draft footage to create Draft Day, an intimate behind-the-scenes look at what Canadian NBAers like Steve Nash and Jamal Murray were feeling going into the big night. "What is a player going though in the hours that lead up to what will become one the most pivotal moments in their life. I've always wanted to capture that and tell a story that revolved around that idea," he told Complex. "The NBA was super supportive and gave us access to countless hours of archival footage, which was as exciting as it was overwhelming."
"Making this film and being able to use footage from the extensive NBA archives gave us a lot of opportunity to really probe the depths of our story," said Shawn Gerrard, who used that footage as the backdrop for Inheritance, which tells the story of a father and son bonding over a shared love of the Raptors (and shared disappointment over Vince Carter's missed 2001 game winner), before highlighting famous father/son NBA connections. "We expected working with the NBA to be an incredible experience, but the archive team exceeded all our expectations with their helpfulness and thoroughness."
And the footage clearly made an impact on the Raptors rookies, with Barnes calling out Inheritance as a favourite afterwards: "Just growing up, having that connection with my dad, getting into the love of the game of basketball, it really touched my heart seeing that." (Banton, as the first Canadian player to be drafted by the Raptors, unsurprisingly gravitated towards Draft Day.)
For the selected filmmakers, getting tapped by the NBA to make a film about Canadian basketball was the equivalent of being a lottery pick, and a TIFF premiere was the cherry on top.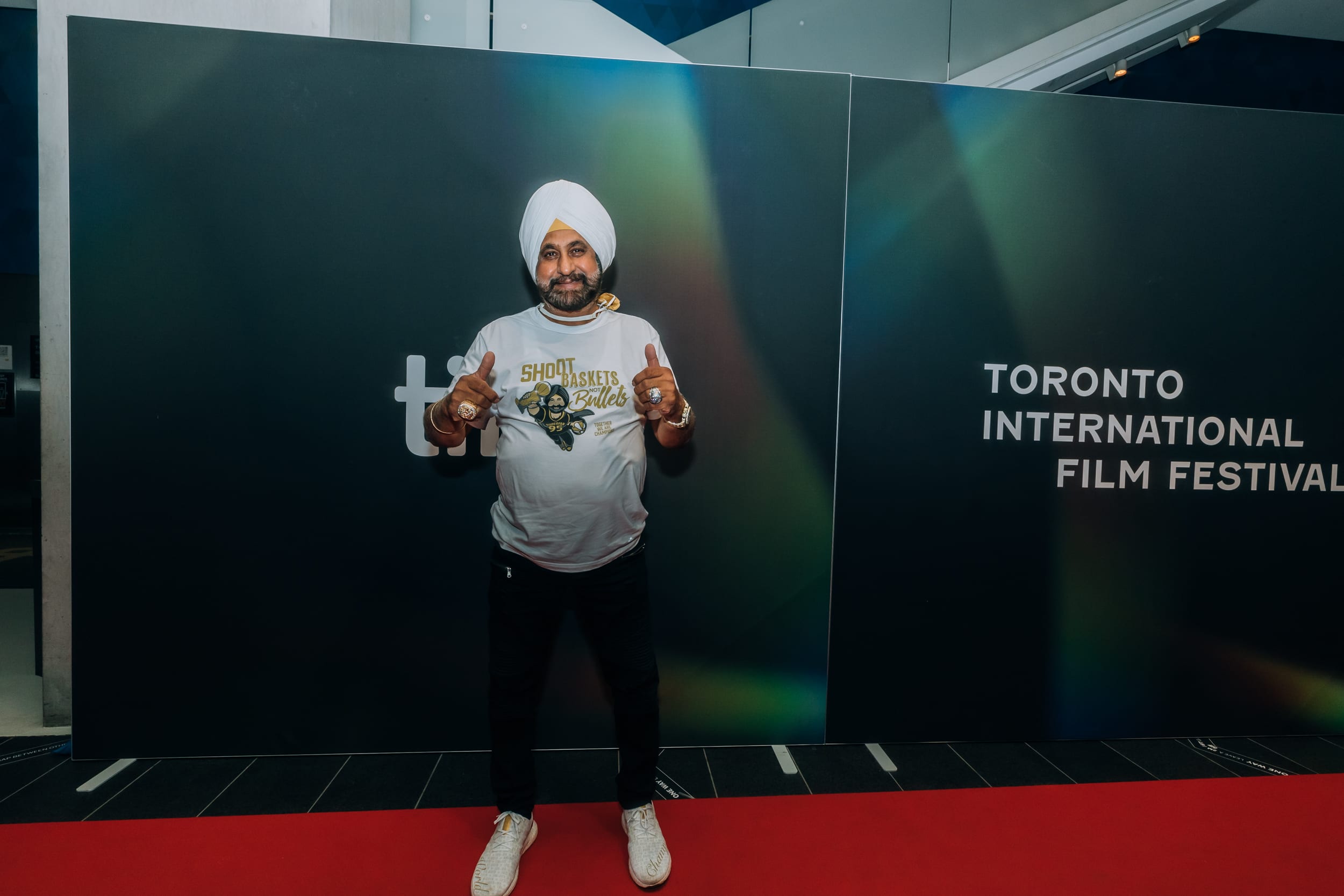 "It's every filmmaker's dream to premiere a film at TIFF. So to be at the festival premiering a film about basketball AND about the Vancouver Grizzlies and Toronto Raptors that celebrates the NBA's 75th anniversary?! It was like three dreams coming true at once," said Jayme. "Honestly when I first got the email about the initiative I was so confused at first because I couldn't believe what I was reading. I had to re-read the email three times and check to make sure that it was really TIFF that was sending it. I just thought the whole program was incredible and such an amazing idea."
"Playing a small part in honouring the 75 years of NBA basketball history and what the love of basketball means for fans is like having my own small corner in the Naismith Hall of Fame," agreed Gerrard.
Following the TIFF premiere, each of the five shorts will be released online timed to key dates throughout the 75th anniversary season, starting with Born Identities on October 18th. And from the sounds of it, the goal is to use the NBA Films For Fans nameplate as an ongoing platform to lift up and promote both Canadian BIPOC filmmakers and Canadian basketball.
By the time the 2021-2022 season opens and the Raptors take on the Wizards at Scotiabank Arena on October 20th, it'll have been 600 days since an NBA game was played in Toronto (not that we've been counting). But for one brief night in September, the NBA was back in Canada—and that's definitely cause for celebration.