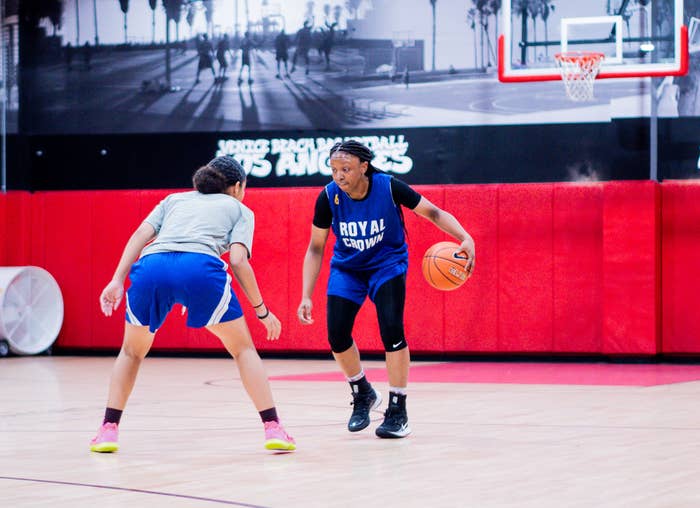 Nakissa Koomalsingh, also known as Keesa K, knows what it's like to be a young woman coming up through the Canadian basketball system. After all, she went through it herself. 
Keesa was born in Scarborough and started playing basketball in sixth grade. She went on to have an illustrious CCAA And USports career, playing at Holland College in Prince Edward Island and later at University of Nipissing. But every summer, Keesa would return to her GTA roots and discover that there were no competitive runs for female ballers to train during the summers, whether they were student athletes or pros returning home. Here she was in the perceived hotbed of Canadian hoops, yet she and her counterparts had to play with older men if they wanted to stay in shape. 
Keesa had to hang up her jersey after a career-ending ACL injury in her senior year, but after completing her post-secondary education at the University of Nipissing with a business degree in entrepreneurial finance, she started coaching young women at Canada Elite prep. Then, the pandemic hit. 
"I kind of just felt for them. I built relationships with them, I was mentoring them. And when the league shut down, they started asking me to train them," Keesa tells Complex Canada. 
"So, when it was safe to do so, I got some of my girls that I graduated with, some girls that I grew up with—everyone was in town, obviously, because of COVID. We got together and played with the young girls. So that's where the idea came in, in terms of bridging the gap between the youth and the older girls. We started to run and then a lot of word of mouth spread across the city like wildfire. And we got some cameras in there. And then obviously with my business-entrepreneurial finance background, I made a business out of it, branded it, and HoopQueens was born."
Keesa always knew that she wanted to create a safe space for Canadian women to ball, but it took the pandemic to make that dream a reality. Now, HoopQueens provides weekly organized runs for competitive female hoopers across the city as well as an annual Queen's Cup tournament, junior HoopQueens clinics, off-court "free game" workshops, and more to come each year. We talked to Keesa about her pandemic-born business and improving the landscape for the next generation of Canadian women.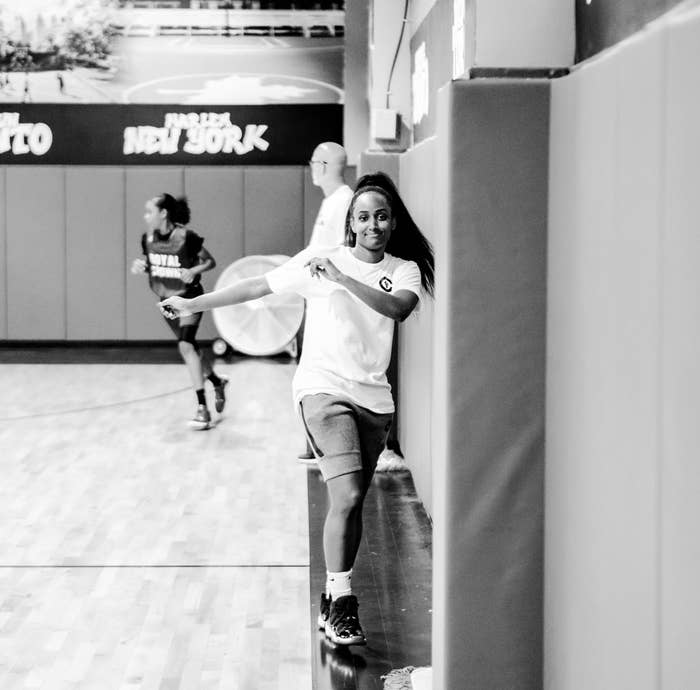 First of all, what was it like when you were a student athlete returning to Toronto in the summers? Why was it so important for you to create a female-only gym space? 
When I was a student athlete, I used to come home in the summertime and I just found that there were no runs specifically for girls, especially no competitive ones. I always had to play with the guys. So, we created HoopQueens to provide a space for girls to safely play without any male counterparts in the building—we're basically hooping without any politics. Just bringing it back to that fun, sisterhood-type feel that I grew up having. 
That is really important because I know that nowadays with all the coaching and competitiveness in prep basketball, the girls' mentality is all about winning. It's no longer about being a good human being and building relationships and stuff like that. They don't teach that anymore. So with HoopQueens, the girls know that every time we have an event or a run, they can come and have some fun and meet new people and be coached by new people and stuff like that.
So you have a mix of high school, USports, and professional women playing in these runs. Why is it important to mix these different generations of Canadian ballers?
My biggest thing is "one respect." Because I only knew a couple of older heads that when I was growing up, and now that I'm obviously in this in this thing full force, I'm finding out about so many names and so many people that have done such great things in the past and kind of paved the way for us as a younger generation. And there's nowhere I can really reach out to them or thank them or just build those relationships. So I want to be able to build that generational bridge between the older and the younger women. 
I want to teach them about some of the women who have paved the way so that the young girls have Canadian role models. There's respect to be paid but more importantly we need to start envisioning ourselves doing stuff with the game past University or past quitting after two years of playing overseas. There's so many bigger opportunities for us to just keep playing or to be involved in different things around basketball. So that's the biggest thing for me, because I don't know where I would be without basketball.
I read a study the other day that Canadian girls are dropping out of organized sports at a significantly higher rate than boys in Canada, with one in three dropping out by late adolescence. Why do you think that is? 
Firstly, the lack of resources. I've been fighting with gym owners over getting primetime spots for our runs, because most of those primetime spots go to boy's or men's programming (fortunately, York University donated their gym to HoopQueens this summer). 
People wonder why so many girls drop off around ages 14-15, but I mean obviously if you don't have any spaces or resources to help them then of course they're gonna drop off. That period of time when they're probably in Grade 8 or Grade 9 and they're able to get a job, they can't go to work and go to training at the same time due to a lack of primetime gym spots. And if training costs $50 an hour rather than being free or having affordable organized runs, it's tough. There's so many barriers that women face, and I don't think people understand how much financial barriers scare girls away from sport.
"I want to help change the landscape of women's basketball in Canada and have it be accessible to everybody."
What about basketball in particular? Are there other reasons that Canadian girls are dropping out of basketball at youth levels? 
Oh, representation. Proper representation. People who are in decision making roles, having BIPOC women in those roles would be huge, because obviously if there's no representation in those higher roles that are making rules, you don't know what I'm going through as a person as a 14-year-old, and you're 30- or 40-year-old that's making decisions for a 14 year old Black girl, you don't know what they're going through. You don't know if they need gas money or transportation or anything like that. You don't know that because you've never been through that struggle. You know what I'm saying? So there's a need for more representation in all levels: national, provincial, municipal, and community. 
Plus, the pro women that Canada has, there's no representation in terms of like, how often do you see those girls coming back to do camps and actually building relationships? Like, yeah, of course you can do a camp and show your face. Cool. But are you building relationships with the actual community? Are you actually being a mentor to these girls? Like that's what frustrates me so much because, yeah, you can put on a show and say, 'Hey, I did a camp!' But are you actually helping grow the infrastructure of women's basketball? Are you reachable and accessible for these young girls if they need help? That's what proper representation would look like.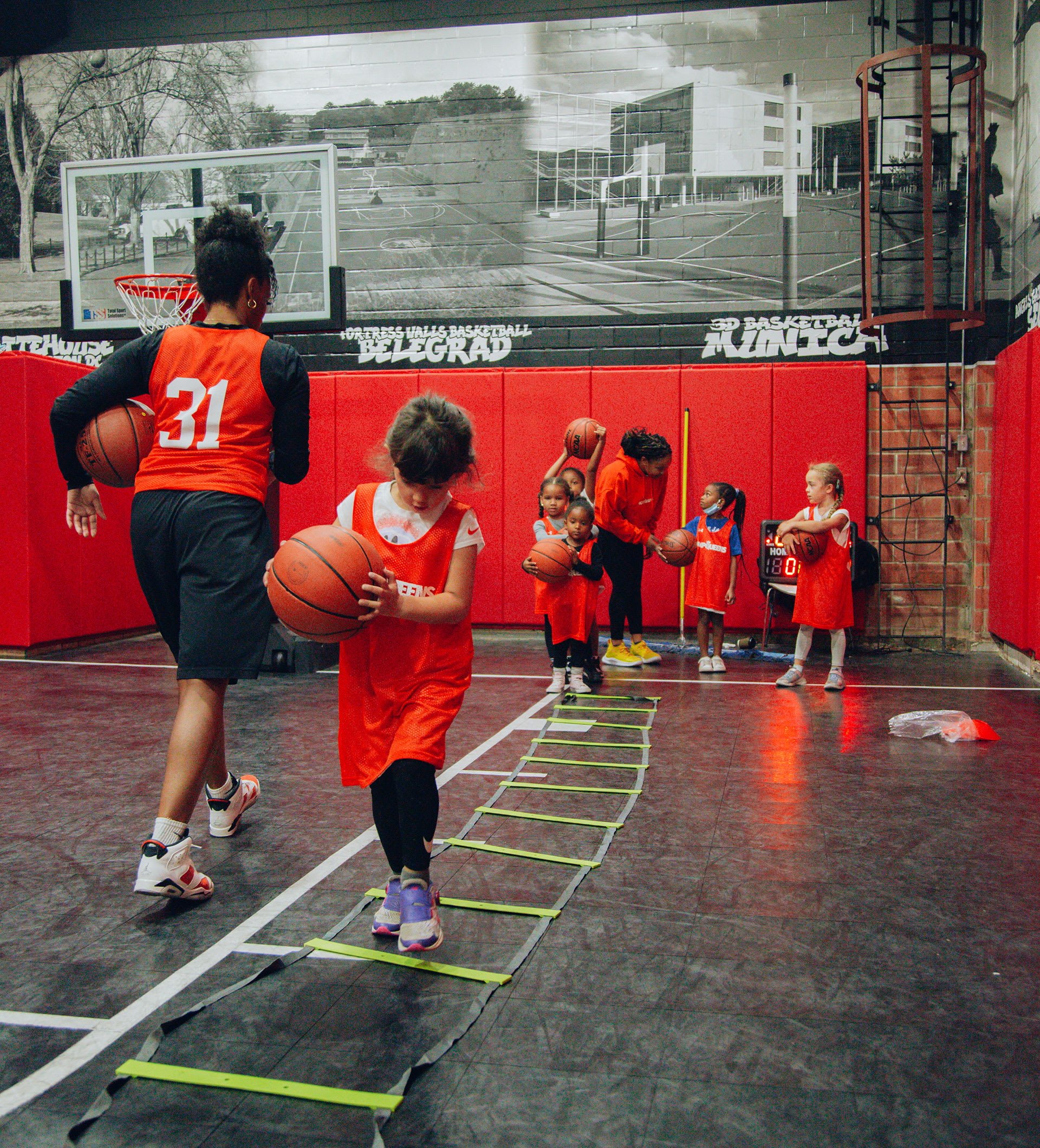 In your experience, why is it important for girls to play organized sports? 
I've been equipped with all these transferable skills for me to do life through basketball. It's such a representation of life: You see a defender, you have to think on the spot of what to do and how to get around it, get a shot or get a layup or whatever. Same thing in life: there's an obstacle or there's a problem or a barrier that you have to face and you have to learn things real quick on your feet of what the different ABC options to get around it are. 
And then also like building that support system outside of like your family and your friends or who you grew up with. Having that sisterhood is something very different because you're going through the trenches of training together and going through so much pain and all those weight room days, the wins and losses, all those emotions, you're building that relationship with your teammates. And if you're going through all the same things, you automatically just kind of make those bonds. It's something that nobody in the world can take away from you and you'll never forget those bonds. And it's important for girls to start at a young age because oftentimes, it's very difficult for girls to make friends. I was always the awkward Black girl. And I played with a whole bunch of my sisters so we just kind of automatically made that relationship, made those connections and we've been friends for life. 
Tell me about what HoopQueens is doing off the court to help young women?
So we've started doing what I call "free game" workshops. They're free, and the goal is to put the girls on game. The first one was about financial literacy. I have a financial literacy background because I went to school for business and entrepreneurial finance, so it was about:  this is how you make money, this is how you manage your money, this is how you can get into entrepreneurship. The goal of the workshops is to make sure athletes have transferable skills and to start thinking about different things outside of basketball, who they are and stuff like that. And just to support them in ways where they start thinking outside of being a basketball player. So teaching things like career development, professional development. That's really important for me is just being a good human being and giving back however I can.
And then on the court, HoopQueens is starting a women's pro league this summer from June 5 to July 3 in addition to the regular runs, youth training, and workshops. Why are you starting a pro league and what makes it so unique? 
Honestly, we just do whatever the community kind of asks for. There were a couple of girls that were on me about wanting to do runs but with referees and fans and stuff like that. And I was kind of apprehensive at first to be honest because it's very hard to get girls to commit. But I took it as a challenge. How am I going to make a league, but make it very different from what the men are doing and something that's never been done before? After all, there has never been a pro women's basketball league in Canada. 
So I just started reaching out within my network and the relationships that I've built throughout the years of basketball. Those relationships all helped me. And we found some funding to pay for the girls' salaries. They're getting $200 dollars a game. There's four teams, 10 players on each team. And yeah, it's happening at Toronto Metropolitan University (formerly Ryerson) from June 5 to July 3. It's not the WNBA, of course, but it's something to start with. And when the WNBA does come to Toronto, we can help prepare them and say 'Hey, this is what worked for me. This is what didn't work. This is how you get the community involved.' We can work as a partnership or something. We are planting the seeds, building the foundation for pro hoops in Canada. And anyone who wants to come and watch is going to be a part of history. It's gonna be crazy.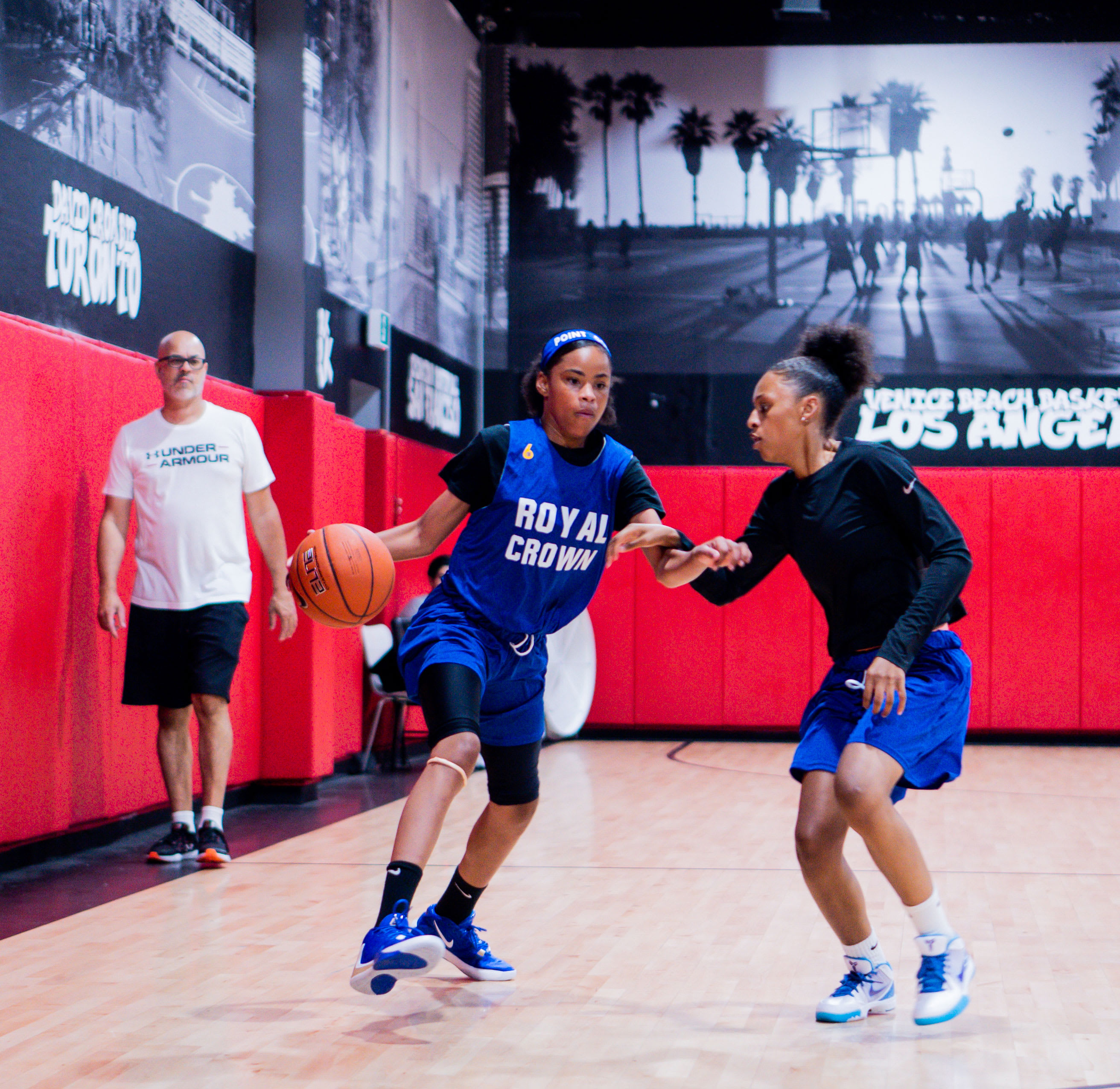 Lastly, you say on the HoopQueens website that you want to "change the narrative" in women's sports. So in your opinion, what is the narrative now and what do you hope it becomes? 
The narrative right now is: you have to look and be a certain type of person to be in any type of leadership position. But I'm a little girl from Scarborough that's doing this through sport. I don't call myself a mentor slash leader, I don't do that. I'm just like a regular person from the community that just has good ideas. So firstly it's just about changing the narrative of who can be a leader in their community or be an impactful person in their community. 
Also, the narrative in women's hoops is that it's all about winning and there are agendas at play that are very egotistical, all about helping them or their program now and not seeing the bigger picture. I want to be able to change that narrative and just be a good person and have good people be part of your program, and do good things for the betterment of the future of women's basketball. I don't think a lot of people are doing that. I don't think people are actually thinking about the entire scope or ecosystem of women's basketball and how we can push this thing forward together as a community. I always say, "Collaboration over competition." I want to help change the landscape of women's basketball in Canada and have it be accessible to everybody.