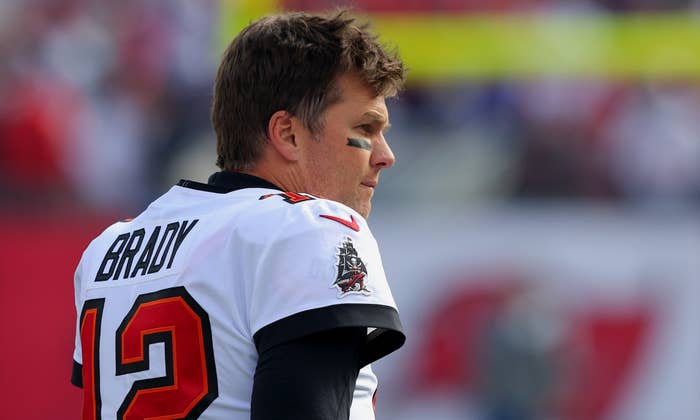 Tom Brady, one of the most decorated quarterbacks in NFL history, announced on Tuesday that he is officially retiring. 
"I have always believed the sport of football is an all-in proposition – if a 100% competitive commitment isn't there, you won't succeed, and success is what I love so much about our game," Brady wrote in a lengthy Instagram post. "There is a physical, mental, and emotional challenge EVERY single day that has allowed me to maximize my highest potential. And I have tried my very best these past 22 years. There are no shortcuts to success on the field or in life."
The Tampa Bay Buccaneers QB admitted he's "not going to make that competitive commitment anymore." He added, "I have loved my NFL career, and now it is time to focus my time and energy on other things that require my attention."
The announcement comes after Brady initially pushed back on a report from ESPN's Adam Schefter and Jeff Darlington that said he was retiring. After the news broke on Jan. 29, the seven-time Super Bowl champion made his weekly appearance on the Let's Go podcast on Monday and said he hadn't come to a decision yet. 
"I've done a lot of reflecting the past week and have asked myself difficult questions," Brady continued in his Tuesday announcement. "And I am so proud of what we have achieved. My teammates, coaches, fellow competitors, and fans deserve 100% of me, but right now, it's best I leave the field of play to the next generation of dedicated and committed athletes."
Brady went on to thank his Buccaneers teammates and staff, while some New England supporters were upset he didn't immediately acknowledge the Patriots.
Prior to joining Tampa Bay in 2020, Brady served as the Pats' league-dominating quarterback for 20 seasons, and fans were quick to react after the 44-year-old didn't note his time there in the announcement. Brady previously thanked his New England squad when he left the team in 2020, and he ended up showing "Patriots Nation" his appreciation again on Tuesday morning, quote-tweeting a statement by Robert Kraft:
As the legendary quarterback closed out his IG announcement, he proceeded to thank his wife and three kids for being a constant source of inspiration and said he was excited about the future.
"As I said earlier, I am going to take it day by day," he wrote. "I know for sure I want to spend a lot of time giving to others and trying to enrich people's lives, just as so many have done for me."
Read Tom Brady's full retirement announcement below.
The Pats' Twitter tribute to Tom read, "It was quite the ride. Thank you and congratulations @TomBrady." Kraft praised Brady on how his "humility, coupled with his drive and ambition truly made him special."
"I always feel a close bond to him and will always consider him an extension of my immediate family," Kraft wrote.