Raptors Superfan Nav Bhatia Thinks Team Shouldn't Retire Kawhi Leonard's Jersey
Nav Bhatia doesn't believe in erecting a statue in Kawhi's honor either.
Getty
Image via Getty/Rey Josue II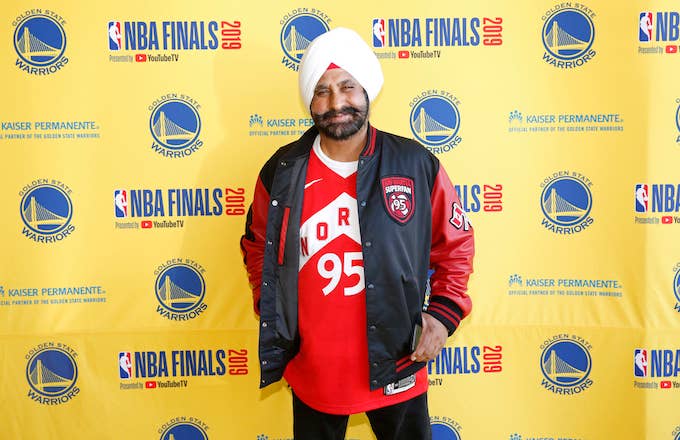 Amid rumors that the Toronto Raptors have internally discussed taking the No. 2 jersey worn by Kawhi Leonard in his lone season with the team and retiring it, Raptors superfan Nav Bhatia vehemently disagreed with the idea. Bhatia also doesn't believe in having a statue erected in honor of Kawhi's game-winning Game 7 shot against the Philadelphia 76ers, which helped Toronto advance to the Eastern Conference Finals. 
Nav argued that as much as Leonard was responsible for taking the Raptors to the promised land, you cannot overlook the sometimes equally important contributions of his teammates. "No! Not at all. No!," Bhatia told Sportsnet in response to the aforementioned ideas of honoring Kawhi. "[The championship] was not just because of him. It was because of [Fred] VanVleet. It was because of Marc Gasol guarding [Joel] Embiid. It was because of [Kyle] Lowry playing his heart out. It was a lot of people. Not just because of Kawhi." 
"People are giving him more credit than they should," Bhatia continued. "He's part of a team. For me, it's everybody: Kawhi, [Serge] Ibaka, Lowry was huge, VanVleet was huge in Golden State in Game 6, when he made those three-pointers… and God assisted us. That was the biggest assist I've seen in 24 years, in the Philadelphia game."
While Bhatia doesn't serve as the mouthpiece for every Raptors fan, his opinion should still carry some weight considering he has loyally followed the team since its inception in 1995. Nav could probably rattle off a few names that he believes are more deserving of such an honor.
As for how he feels about Leonard now that he has left the North and come back home to play for the Los Angeles Clippers, Bhatia sees Kawhi as the enemy when he eventually returns in the Scotiabank Arena. Before and after the game, though, it's all love. 
"He's gone. I'm the least interested in him now. I'm focused on my people, my team," he said. "We'll give him love before the game, we'll give him love after the game, but for those 48 minutes, I'm going to be throwing every towel, every jersey I can find for him to miss the free throw — and all the fans are going to join me in making the noise."