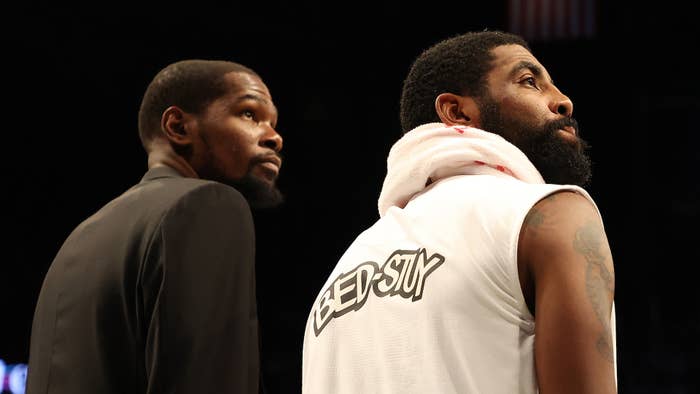 With the NBA approaching the 1-yard-line in its plan on a return to play starting July 31, ESPN reports that the Brooklyn Nets have taken a massive leap in their championship odds for the restructured season.
Caesars Sportsbook lowered the Nets' odds from 750-1 to 60-1, due in large part to the possibility that Kevin Durant could come back from the torn Achilles injury he suffered last June. Nets general manager Sean Marks didn't exactly rule out Durant's return last month, leaving the decision up to KD.
"In all seriousness, we've tried not to talk about his timeline a lot," Marks said. "He knows his body better than anybody. Our performance team and training staff have done a tremendous job getting him to this point, but I just don't know how coming out of this pandemic will affect anybody, let alone Kevin."
Durant's business partner Rich Kleiman previously admitted it was "definitely a possibility" that he could play in the 2020 Summer Olympics, which have since been rescheduled for 2021.
Kyrie Irving, who underwent arthroscopic right shoulder surgery in February, could also be ready to return by the time the season starts up again.
Jeff Davis, Caesars director of trading, told ESPN that the Nets' odds took such a huge dive as a precautionary measure in the event that Durant and Irving return, and bettors aim to reap massive rewards. 
"I don't want to post 150-1 odds, and the problem is you take a bet of a couple thousand and it pays $300,000 and you're stuck if [Durant is] good," Davis said.
In the same vein as bettors trying to strike while the iron's hot, Durant has recently bought a small stake in the Philadelphia Union of Major League Soccer, Sports Business Daily reports. The stake is believed to be between 1 and 5 percent. According to The Athletic, KD tried on two occasions to purchase a stake in his hometown MLS club, D.C. United.