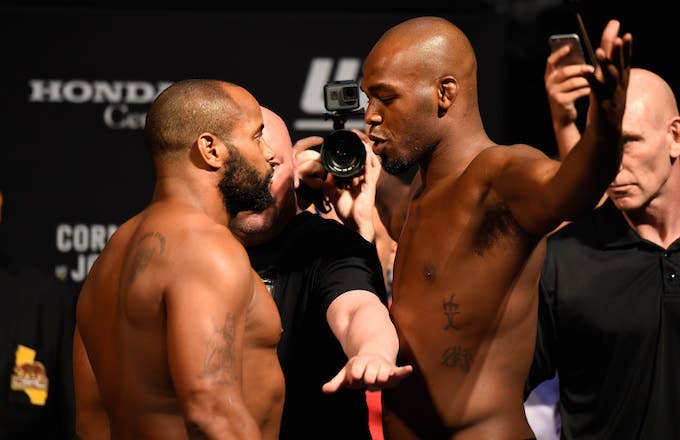 Daniel Cormier managed to hold onto his heavyweight belt by beating Derrick Lewis at UFC 230 on Saturday, and then shortly afterward (as in Monday) he said he doesn't really care if he fights Jon Jones for a third time before his retirement.
Speaking to Ariel Helwani on his MMA Show, Cormier said "I don't need [the Jones fight] anymore. Sometimes you need things and sometimes you don't. ... I've come to terms with everything. Because he was gone so much, I had to remove myself from the situation so completely that it almost became not reality."
Cormier reportedly wants to end his career when he hits 40 which (seeing as how he's now 39) is coming pretty damn soon. By March, Cormier will hit the four-decade mark and, according to ESPN, he hopes that his last fight will pit him against Brock Lesnar.
Cormier and Jones had each made up one-half of a super bitter rivalry. Jones had defeated Cormier twice previously (though one was changed to a no-contest). Jones beat Cormier by unanimous decision in 2015, but had his belt stripped shortly afterward when a hit-and-run accident he was involved in injured a pregnant woman. He and Cormier were slated to fight, again, at UFC 200 the following year, but Jones got yanked off that card after failing a drug test. In July 2017, they met for the second (and final?) time, which Jones won by TKO in the third round. That result was later overturned after Jones tested positive for a steroid.
As for where Jones stands on a third match, he also said he had no interest in fighting Cormier again. Like Daniel, he told it to Ariel Helwani, though he said it in October.
"I already have all the marbles when it comes to Daniel Cormier," Jones stated. "I've beaten him twice. This game has never been personal. What is personal to me is chasing greatness, not individuals. So in the case of myself and Daniel Cormier, he needs to fight myself one more time if he ever wants to be considered one of the all-time greats. I don't need to fight him again to be considered one of the all-time greats. I have many more years to prove it."
As ESPN notes, Cormier appears to be over the belief that he needs to avenge his only professional loss by fighting Jones and beating him (though ESPN also states Cormier believed Jones to be on PEDs when he lost to him at UFC 182). Cormier also stated that it wouldn't be shocking if Jones had some more issues arise following his December 29 return, which will officially come when he faces Alexander Gustafsson at UFC 232 in Vegas. 
"Can I really trust that he's going to be back in the game?" Cormier asked. "History shows that there will probably be some sort of issue either before the Gustafsson fight or after the Gustafsson fight. We schedule a fight? There's definitely going to be an issue because there's always been an issue."