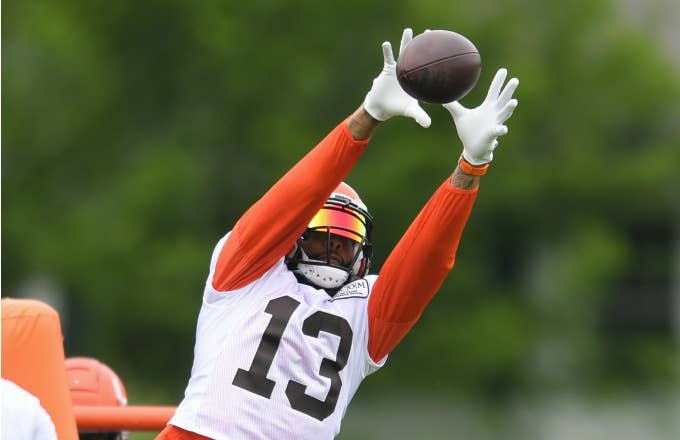 UPDATED 07/25/19 9:23 p.m. ET: Eli Manning responded to Odell Beckham Jr.'s claim that he was the reason the Giants "were getting prime-time games." 
"You just kinda shake your head and laugh."

-Eli Manning, on Odell Beckham Jr. claiming he was the reason the 5-11 Giants got primetime games.

"We won a few games before he was here."

@nflnetwork pic.twitter.com/BLOwgplwro
See original story below.
Odell Beckham Jr. has easily been one of the most talked about players in the NFL even during his time with the underperforming Giants. The star wide receiver talked about how the spotlight affected his career with GQ.
In March, the Giants officially traded OBJ to the Cleveland Browns. Though he maintains he's excited about his new team, Beckham detailed his negative reaction upon first hearing the news.
"My initial reaction was not disappointment.… I felt disrespected," Beckham said. "This is me being honest: This team has not been good for the last six years. Period.... I felt disrespected, because I felt like I was a main reason at keeping that brand alive. They were getting prime-time games, still, as a 5-and-11 team. Why? Because people want to see the show. You want to see me play. That's just real rap. I'm not sitting here like, 'It's because of me.' But let's just be real."
Beckham did admit that the pressures of being a superstar were becoming a heavy burden. In fact, he contemplated retiring a short time ago.
"All the time, bro. Literally every day. Especially on those days I'm down," Beckham said when asked if he thought about playing another professional sport. "Not many people know, but I used to talk to my momma and I'd be like, 'Ma, if I was done doing this now, would you still be proud of me?' And this was a couple of years ago, about two or three years ago."
He then went on to describe how his toxic relationship with the media prompted these thoughts.
"Twenty-four years old. Just off it. To love something so much to a place where it is my everything, and to watch it be tainted, or all kinds of things be in the middle of it. Like, it hurt me to my soul," he continued. "It be like loving someone and putting them on such a level to where life is about them and you love that person through anything. Through the good, the bad. And to watch them do something so heinous and vulgar. Something just so, like, almost unforgivable. You still love them, but it's, like, Wow."
Cleveland are finally looking like contenders after years of mediocrity that included a winless season. The Browns have also added running back Kareem Hunt to give young stud Baker Mayfield help in the backfield. Still, all eyes are on Beckham.