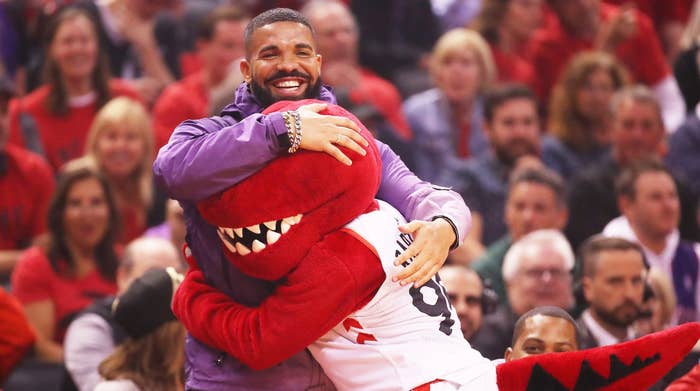 Since becoming the Toronto Raptors' official global ambassador in 2013, Drake has made a name for himself as the team's most vocal celebrity superfan. On Friday, the 6 God paid tribute to Scotiabank Arena for the Raptors' 108-105 loss the Boston Celtics.
During Drake's courtside visit, TSN tapped the Toronto rapper to join the broadcast booth to deliver some analysis, which featured him taking shots at the visiting Celtics, particulary guard Payton Pritchard, who he compared to a "crypto scammer."
"I feel like I'm in a time lapse right now," Drake said. "First of all, this guy's not [former Raptors coach] Nick Nurse. I haven't been here in a while. I don't know where we're at. The court is a completely different color. Payton Pritchard's out there looking like a crypto scammer. This is crazy. What's going on, boys?
Drake's appearance at the Raptors' game arrives hours after he dropped his latest project For All The Dogs: Scary Hours Edition. The third installment of his Scary Hours series, which doubles as a deluxe edition of For All the Dogs, is comprised of six songs and features a lone feature from J. Cole ("Evil Ways").
On the production side of things, Scary Hours 3 includes contributions from Ovrkast ("Red Button," "The Shoe Fits"), Lil Yachty ("Red Button," "The Shoe Fits"), Conductor Williams ("Stories About My Brother"), The Alchemist ("Wick Man"), Vinylz ("Evil Ways," "You Broke My Heart"), and more.