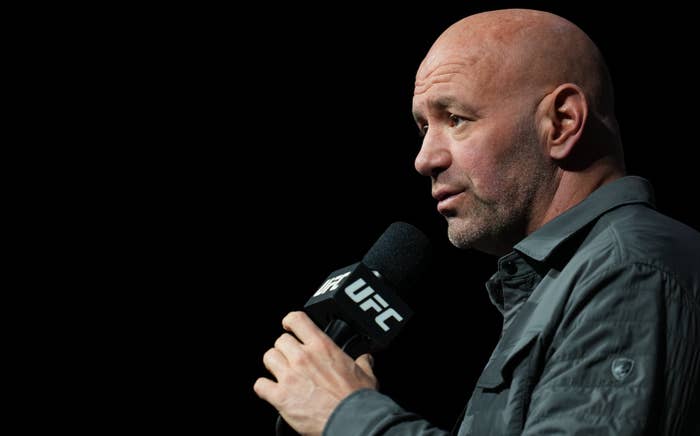 UPDATED 01/05/23 4:00 p.m. ET: Dana White's slap-fighting league broadcast on TBS will be on hold after video showed the UFC president in a physical altercation with his wife.
Per Front Office Sports, the first two episodes of the league, which is titled Power Slap: Road to the Title, have been pushed to another date on the TBS schedule just ahead of its initial debut. The first installment was set to debut on Wednesday, Jan. 11 at 10 p.m. following AEW, but the schedule shows that it has been replaced by Young Sheldon reruns. The show was produced by Lionsgate subsidiary Pilgrim Media Group, and was announced by White during a press conference in November.
According to Deadline, the first episode is set to air on Jan. 18.
See original story from 1/3/2023 below.
UFC president Dana White has issued an apology for a physical altercation that took place between him and his wife on New Year's Eve.
White spoke with TMZ on Monday about the incident, which was captured on video and saw White repeatedly slapping his wife during a verbal argument inside a night club. It's worth noting White's wife Anne slapped Dana first, before he returned the favor. 
"I'm in Cabo, Mexico for the holidays with my family, and my wife and I were out with family on New Year's Eve, and unfortunately that's what happened," White told TMZ, as seen in the video below. "I'm one of the guys, you've heard me say for years. There's never, ever an excuse for a guy to put his hands on a woman. And now here I am on TMZ talking about it."

"There was definitely a lot of alcohol, but there's no excuse," White continued. "I'm literally making no excuses for this thing at all. It's never happened before. It's the first time that it's ever happened, and people are going to say what they're going to say. It is what it is. And whatever people do say, it's deserved. I deserve it. It happened."
White added that he and Anne have made up, and have apologized to their children. 
"I don't know why it happened," he said. "My wife and I have apologized to each other. We've apologized to our kids."
White, 53, has been married to his wife Anne since 1996. The couple has had three children together.
Anne issued her own public apology to TMZ. 
"Dana and I have been married for almost 30 years," Anne said. "To say this is out of character for him is an understatement — nothing like this has ever happened before. Unfortunately, we were both drinking too much on New Year's Eve and things got out of control, on both sides."
"We've talked this through as a family and apologized to each other. I just hope people will respect our privacy for the sake of our kids," she added.