Kanye and Antonio Brown Connect in L.A. After Justin LaBoy Says Ye Wants to Hit Studio With Football Star (UPDATE)
Kanye West apparently wants to make a song with NFL wide receiver/rapper Antonio Brown, Justin LaBoy said during a conversation on Clubhouse.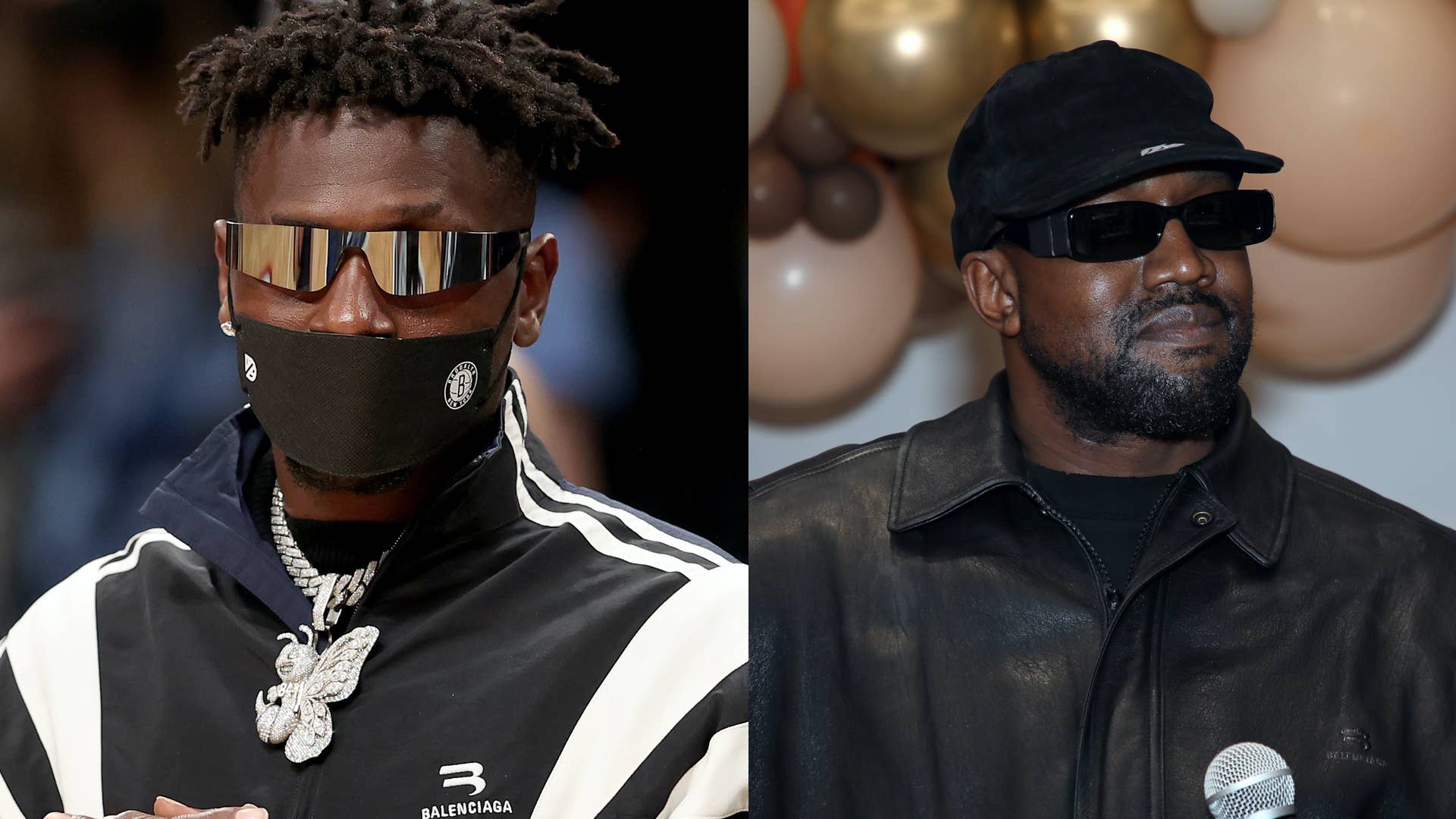 Getty
NEW YORK, NEW YORK - JANUARY 03: Former Tampa Bay Buccaneers receiver Antonio Brown (Photo by Elsa/Getty Images) and Kanye West attends the Los Angeles Mission's Annual Thanksgiving event at the Los Angeles Mission on November 24, 2021 in Los Angeles, California. (Photo by David Livingston/Getty Images).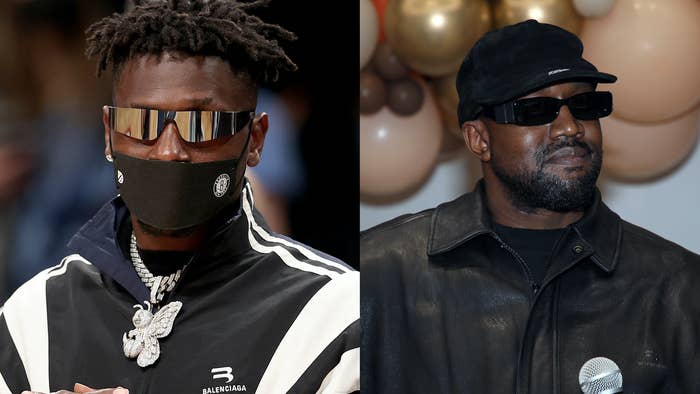 UPDATED 1/11, 10:20 a.m. ET: Ye and AB already managed to link, with Brown tweeting a photo of them together, writing "Ye + AB = SB #CallGod." 
On IG, Antonio Brown shared a short video clip captioned, "Ye & AB = SB #BOOMIN #StayTuned #kumbaya."
TMZ also reported Brown joined Kanye and Julia Fox at dinner on Monday in L.A., writing that the Tampa Bay alum is "reportedly going to be making music with Ye in the near future."
See original story below.
Kanye West apparently wants to make a song with NFL wide receiver/rapper Antonio Brown, Justin LaBoy said.
During Friday's Tapped in Daily chat with Kazeem Famuyide and Ashley Nicole Moss on Clubhouse, media personality Justin LaBoy said that Ye has expressed interest in working on music with the free agent. He suggested that Kanye, who has often gravitated towards controversial figures like Donald Trump, sympathizes with Brown's current situation.
"AB listen man, 'til another team pick you up you gotta pull up to the studio man," said LaBoy. "Me and Ye working, and Ye want you to pull up, man. … Ye's another advocate for mental health and equality everywhere, so, I'm excited about bringing both of them together.
LaBoy went on to say that a collab record from the pair would sound "amazing" and "legendary."
AB isn't the most prolific of rappers, but he did recently release a song titled "Pit Not the Palace" after he left the field mid-game in what would be his last with the Tampa Bay Buccaneers.
It's not clear when fans should expect to hear a track between the two, or where it would show up, but G.O.O.D. Music COO Steven Victor revealed on Monday that Ye has already started working on "his new masterpiece DONDA 2."
Brown has had a high number of controversies, including a rape allegation, over the past few years. Ye's last album Donda similarly featured artists facing controversies, including DaBaby shortly after he shared homophobic comments, and Marilyn Manson amid multiple allegations of sexual assault.
On Thursday, Brown released a statement regarding his dramatic exit mid-game on Sunday. "Coach was telling me that if I didn't play hurt, I was done with the Bucs," Brown claimed. It was after his refusal to play because of an ankle injury that Bucs head coach Bruce Arians "threw me out like an animal," Brown added.