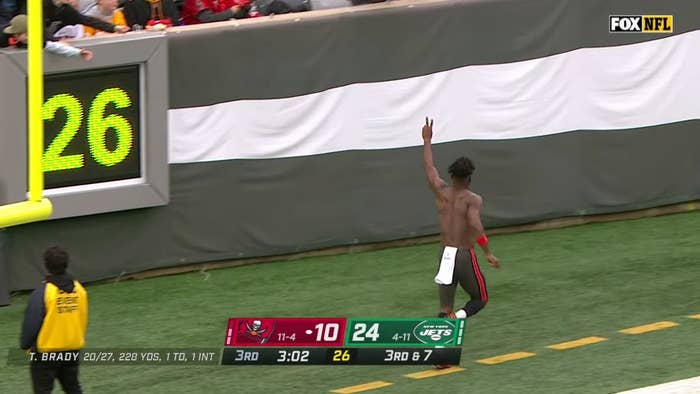 Antonio Brown left the Buccaneers' Sunday match-up against the New York Jets during the third quarter, removing his jersey and throwing up a peace sign to fans. And now, coach Bruce Arians has announced after the game that Brown is "no longer a Buc."
"He is no longer a Buc. That's the end of the story," he said when asked about what happened. "Let's talk about the guys who went out there and won the game."
Around 3 p.m. ET and with the Bucs behind 24-10, the now-former Tampa Bay wide receiver, who was described as "very upset on the sideline" by a Fox Sports commentator, took off his shoulder pads and began tossing his shirt and gloves into the crowd before departing the field. 
While it hasn't yet been confirmed what inspired his reaction, fans in attendance shared footage of AB chatting with receiver Mike Evans before he decided to head off. His response followed Coach Bruce Arians's decision to bench him, per sideline reporter TJ Rives, which prompted him to head to the locker room alone. 
According to the sideline report, security at New York's MetLife Stadium thought Brown was a shirtless fan who made his way on the field, and "intended to tackle him before they realized it was Antonio Brown," per The Athletic's Lindsay Jones. 
After the game, Brown tweeted a photo of himself with the caption "Super Gremlin."
The in-game departure comes shortly after Brown was suspended for three games over allegedly using a fake vaccine card and misrepresenting himself as a vaccinated player. The suspension arrived after a Tampa Bay Times story that alleged Brown's girlfriend asked his former private chef for fake cards. 
"We appreciate the League's timely handling of this matter and recognize the importance of the health and safety protocols that have been established," the team previously said in a statement.