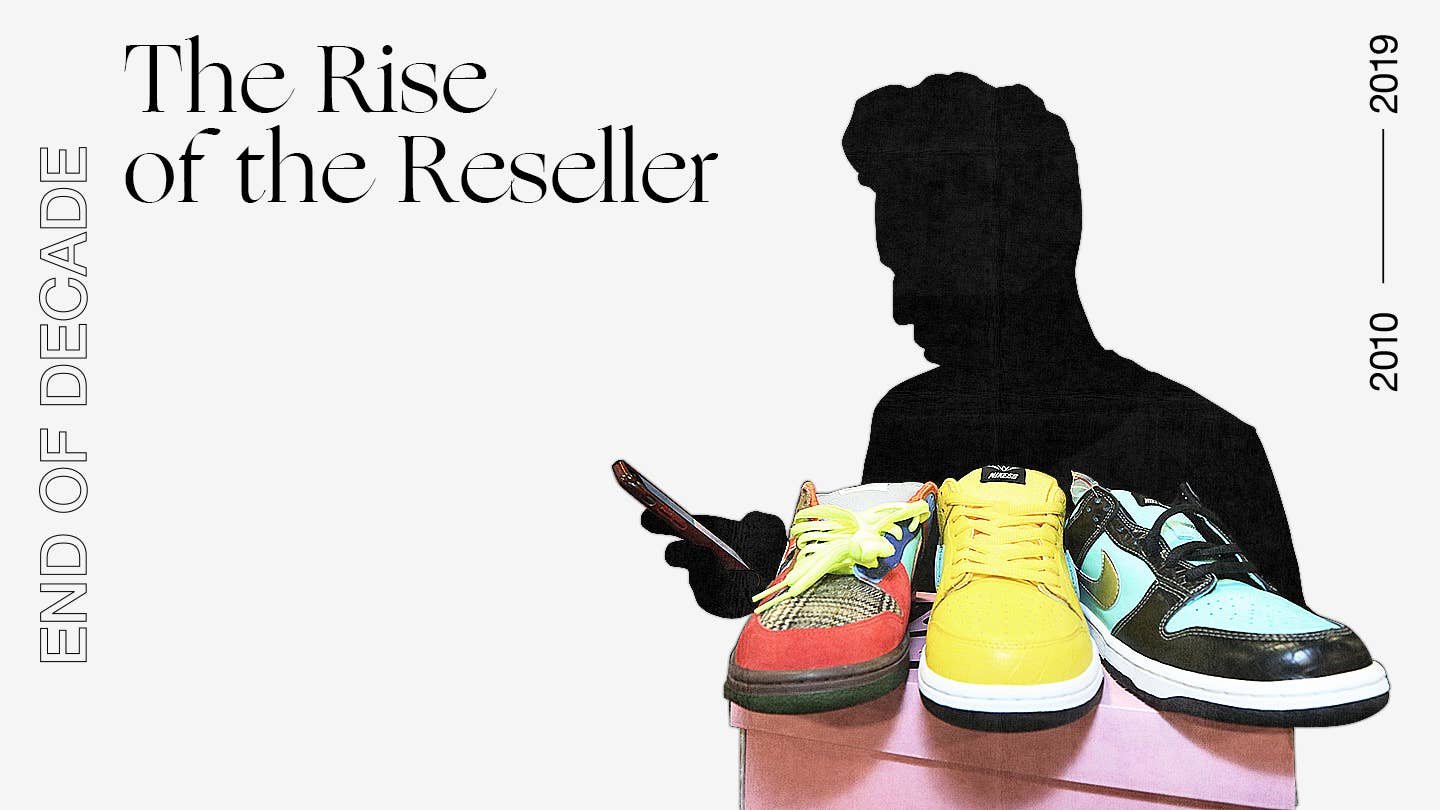 Have you ever resold sneakers? 
It's a question Matt Welty uses to grill Full Size Run guests on a weekly basis, and one that almost every sneaker collector would say yes to. And even if you've never resold sneakers, you've probably bought sneakers from a reseller.  
For better or worse, reselling has evolved and defined what sneaker culture has been in the past 10 years. While some purists may look down on buying and flipping shoes for profit, there's no denying that it's opened up the sneaker world to the masses and created a new generation of entrepreneurs.
But to see how we got here, it's necessary to consider what reselling sneakers was before Sotheby's was auctioning off rare Nikes for half a million dollars or Los Angeles Laker Kyle Kuzma was signing endorsement deals with reselling platform GOAT. 
Reselling became more of a focus in sneakers with the advent of eBay, in the late '90s the go-to platform for sneakerheads to sell shoes or find any type of nostalgic artifact. There were also forums like ISS, which would eventually become Sole Collector, and NikeTalk that acted as marketplaces and communities for sneaker transactions. 
"It was a lot of having to dig. There was a lot of discovery, compared to now," says Yu-Ming Wu, founder of Sneaker News and Sneaker Con, of finding sneakers in the early '00s. "I don't even know how people got money across back in those days before PayPal. It wasn't until that when sneaker reselling really expanded."
Enter Flight Club, which opened its doors in 2005. It was the first physical and online location for resellers and collectors alike to buy and sell authentic sneakers. As Flight Club grew, so did blogs covering sneakers, which boosted interest in sneakers everywhere. 
"Flight Club pioneered sneaker consignment, and has remained one of the few places in the world where you can experience some of the rarest sneakers up close in real life," says Matt Cohen, VP of business development and strategy with GOAT Group, which merged with Flight Club last year. "It is a cultural institution for the sneaker community."
Connecting resellers and buyers through consignment may not be anything new, but the past decade has seen Flight Club and Stadium Goods grow beyond just the resale of shoes and gear. Foot Locker invested $100 million into GOAT this past February.
"There was typically a lot of friction around selling in traditional consignment shops and online platforms," says Cohen. "As platforms like GOAT become global channels, resellers now have a larger global audience to sell their product to, and consumers can easily access the database of sneakers right at their fingertips."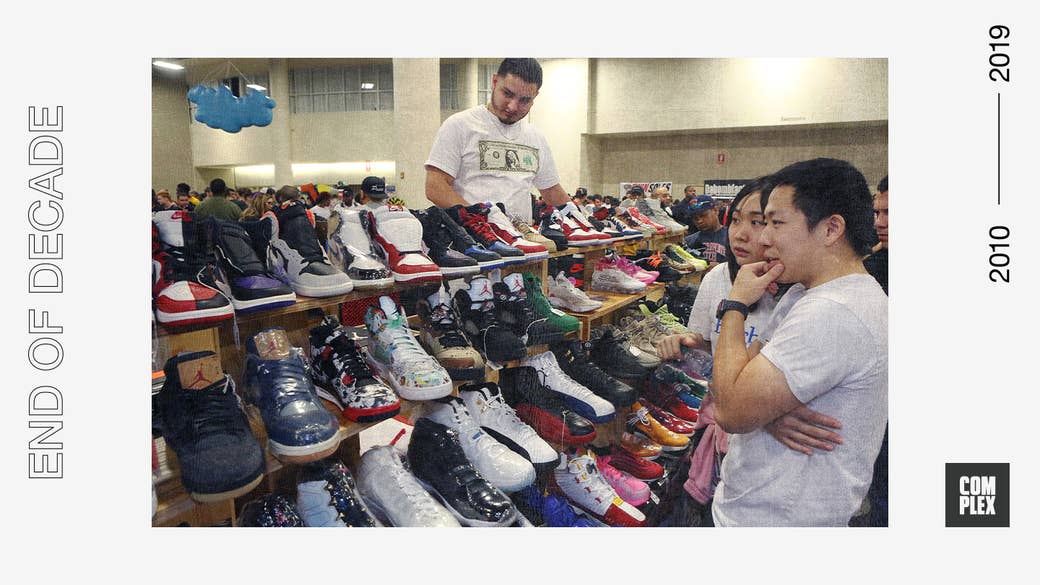 Since opening in 2016, Stadium Goods has lined up a number of investors and strategic partners, including Ebay, Alibaba in China, and Farfetch. It's also expanded its brick-and-mortar footprint by linking up with Nordstrom. Outsiders may look at these business moves and see vultures trying to cash in on an expanding market, but Wu—who also manages digital marketing for Stadium Goods—maintains that none of these decisions would've been successful if the people making them weren't reverent of the culture.
"We're a group of people that are very passionate about sneakers," says Wu. "Obviously, it's a business. But we couldn't sustain the business if we don't advance sneaker culture and what it was about." 
It was this love of sneakers and their aftermarket that motivated Wu to start Sneaker Con in 2009. IRL meet-ups like DunkXChange and H-Town Sneaker Summit existed before, but Sneaker Con separated itself in that it was completely centered around buying and selling sneakers. Since its first show in New York, the traveling convention has expanded nationwide and globally to Europe, China, and Japan.
"Before this decade, we only had blogs and internet forums," says Wu. "We didn't have social media and the variety of access points. There are so much more resources available to sneakerheads today compared to when I started this stuff."
Social media, mainly the launch of Instagram, in 2010, is another touchpoint that propelled reselling in the last decade. Not only has Instagram helped create unique niches within sneakers, but it's given collectors another way to sell shoes. It's been the go-to for the likes of @corgishoe, who first used to sell exclusively through his blog on NikeTalk and was one of the first to sell sneakers on Instagram.
"I got released from prison and I had nothing except a bunch of fucking shoes, and I had to sell them because I had no space to keep them," says Corgi. "I didn't know how difficult or easy it would be because reselling still wasn't, like, a big thing back then, but it went well for me."
"Flight Club pioneered sneaker consignment." - Matt Cohen, VP of business development and strategy, GOAT Group
What started out as a way for him to drop sneakers he had bought on clearance racks and had been stockpiling for years has evolved into a unique personal business model. By simply posting a sneaker on his feed with its price, size, and other relevant info, and deleting once the transaction is complete, Corgi helped pioneer how reselling was done on the platform before Instagram itself was allowing companies to sell through posts.
Although the sneaker reselling game has been good to Corgi, he admits that it's definitely changed since he started. The biggest shift isn't just the amount of people reselling sneakers, but the kinds of sneakers the majority of people are interested in.
"The money was definitely better," he says, adding that it comes down to what kind of inventory a reseller has versus what's in demand—Corgi's specialty is sneakers from the late '90s and early '00s. "Now it's not as good because it depends on what side of the curb you're on. If you're getting Off-Whites or whatever the two shoes are that everybody wants right now, the money's great."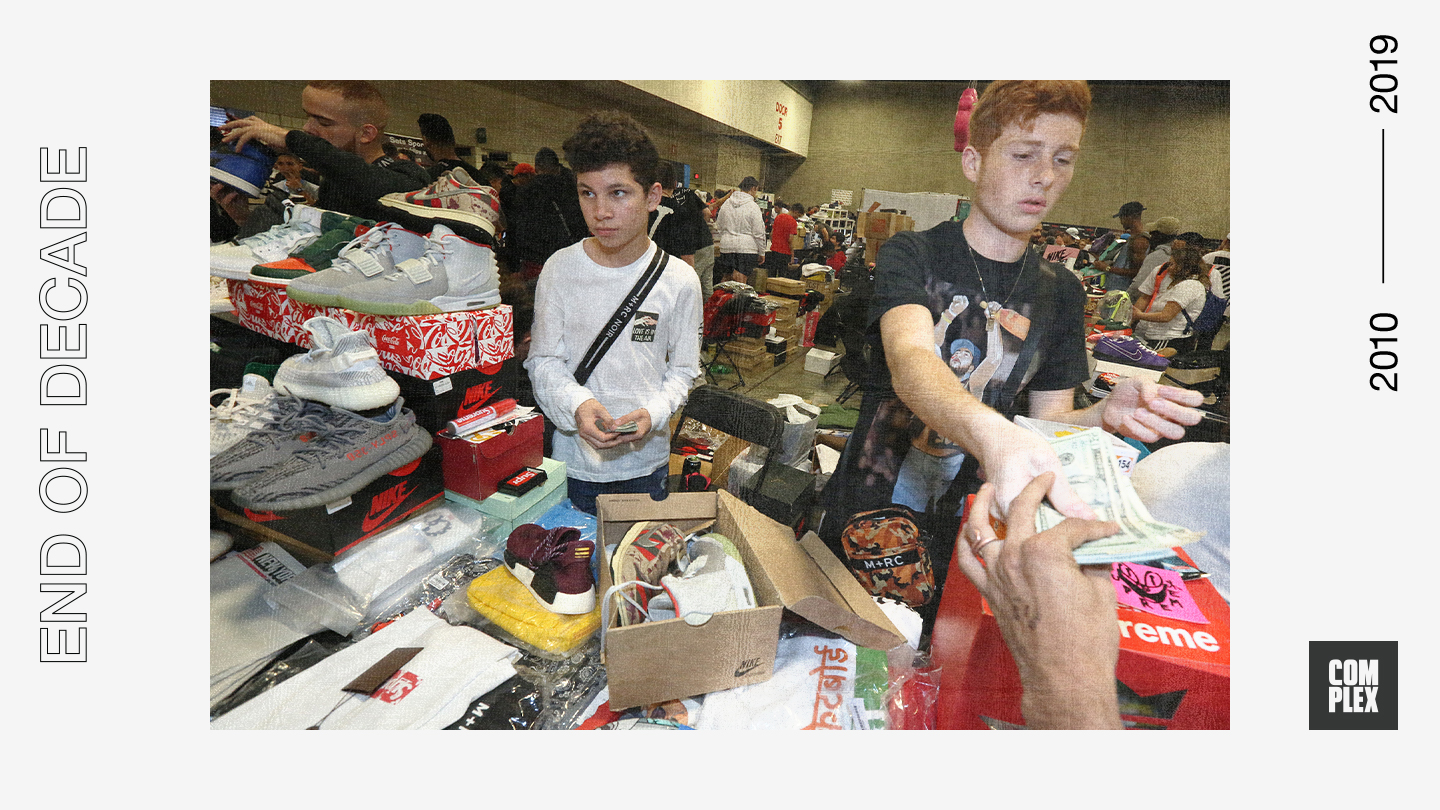 Take Nike SBs, for example. The resale value of a pair of "Paris" Dunks from 2005 averaged around $9,000 to $11,000. This past June, the value of these already-rare sneakers skyrocketed to over $20,000.
"It went up when we got Travis Scott that shoe because he's so relevant and is actually the music industry's biggest tastemaker," says Andre Ljustina, founder of Project Blitz in Los Angeles. "Anything that he wears or likes or buys instantly becomes something more valuable, and that's huge."
There was a period in the early '10s when Nike Dunk SBs weren't retaining the value they had at the beginning of the millennium. Like the stock market, Ljustina says the secondary market of sneaker fluctuates over time. "It's like a real commodity—there's appreciation and there's depreciation."
No one understands the Wall Street-like nature of the sneaker aftermarket better than Josh Luber. The marketplace he founded in 2016, StockX, hasn't just changed how sneakers are resold, but the nature of the business altogether. It's also not just limited to sneakers, as it was when it started out as sneaker resale data guide Campless in 2014. It's expanded to apparel, watches, vinyl collectibles, and, most recently, trading cards. 
"StockX at its highest level is about access." says Luber. "How do you do you make it easy for people to be able to buy the things they want?"
He estimates that about 20,000 transactions take place on StockX each day, with the bulk of those being sneakers. Power sellers using the platform earn upwards of six figures a year; a handful even hit the million-dollar mark. A majority of @corgishoe's sneaker sales are even done on StockX now. Earlier this year, after its latest round of investments, totaling $110 million, StockX was officially valued at over a billion dollars.
What StockX has also done is create a way to track the ups and downs of the sneaker resale market. In essence, it's become an unofficial Kelley Blue Book for sneakers.
"We intentionally put all that data out there and you don't have to pay for it. It's there for everyone to use, including the brands," says Luber. "Brands can leverage that data, then they can put out products that people want, and then we're all happier."
"Before this decade, we only had blogs and internet forums." - Yu-Ming WU, FOUNDER, SNEAKER CON
Prior to this decade, sneakers was a hobby comprised of insiders selling to one another. So in the pre-sneaker-marketplace era, it was much more difficult for resellers to find a customer base.
"There was more shoes you couldn't sell. You had to call people and ask them if somebody wanted what you had," says Paul Givelekian, aka PG Knows, a prominent reseller. "You couldn't just put it on an app and just sell it right away."
Not only have technological advances broadened the reach of sneakers and the masses' access to them, they've also fostered a new generation of entrepreneurs. Walk through any Sneaker Con and you'll easily find an 11-year-old with at least a few thousand dollars in cash made off of sneakers. You may also find a 60-year-old retiree who knows nothing about the cultural significance of Air Jordans but is willing to pay top dollar to have them.
At the same time, the lines between retail and resale are starting to blur. In fact, the retailers themselves are getting in bed with the resale markets.
"Brands and retailers look to secondary marketplaces like GOAT and Flight Club to market their product," says Cohen. "For example, this can be seen through Foot Locker's recent $100 million investment in GOAT Group, and direct distribution partnerships from Versace and Chloé, among other brands."
StockX also has been testing IPO-style sneaker releases with brands—for instance, when it launched a collection of exclusive sneakers with Adidas this past fall, with bidders on the platform determining the monetary value of the shoes.
So what does the next decade hold for sneaker reselling?
"Sneaker reselling will continue to grow, especially as sneakers gain global popularity. The secondary sneaker market is still relatively nascent from a global perspective," says Cohen, adding that the sneaker resale industry is projected to become a $6 billion business globally by 2025. "For example, markets like China have massive spending power and are newer to sneaker culture, as well as basketball and hip-hop culture. These newer markets like China will continue to drive expansion of the sneaker industry."
Regardless of what happens, though, one thing is clear: There's no turning back.
"People say the bubble is going to burst," says Givelekian. "I don't know. It's just going to get way bigger. It's not going to stop. I don't think it's ever going to stop."
Complex is celebrating the best in music, pop culture, style, sneakers, and sports this decade. Check out the rest of our 2010s series here.