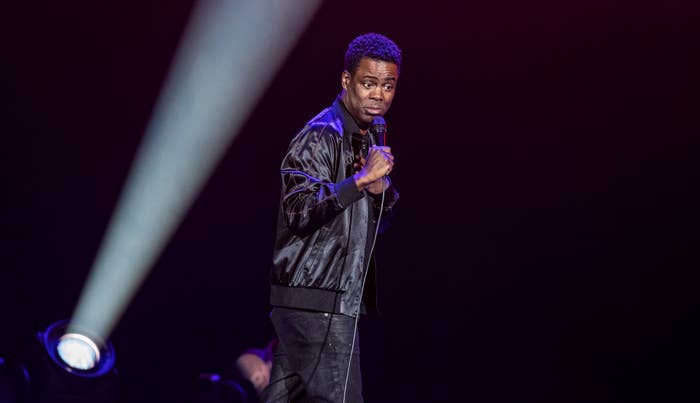 Netflix is turning to Chris Rock to accomplish something the streamer has never offered: a stand-up special broadcast live.
"Chris Rock is about to make history as the first artist to perform LIVE on Netflix!" read a tweet shared Thursday, noting it'll "premiere live—globally—in early 2023."
The post was notably accompanied by a photo of the multi-hyphenate onstage in July with an iced-out goat. The farm animal was in fact named Will Smith, a tongue-in-cheek gift from Kevin Hart at Madison Square Garden.
Rock, 57, put out his first comedy special in a decade, 2018's Tamborine, through Netflix. February will mark five years since the Bo Burnham-directed project arrived. At the top of 2021,Chris Rock: Total Blackout – The Tamborine Extended Cut arrived, adding more than a half-hour to the original. This was another innovative moment for the comic and the streaming platform. "For the first time in history, a remixed version of a special," Chris stated at the time. "It's a Netflix special. Not a normal, not a routine. It's a special."
Varietywrites that Rock's new offering will mark "the first significant test of live streaming on Netflix, potentially opening the door for a number of its other programs to get the live treatment." The magazine points out that the company's interest in live unscripted content has been gestating for some time, including the idea of giving "fans a chance to vote live on who should be voted off a show."
The streamer's VP of Stand-up and Comedy Formats, Robbie Praw, stated Thursday, "Chris Rock is one of the most iconic and important comedic voices of our generation. We're thrilled the entire world will be able to experience a live Chris Rock comedy event and be a part of Netflix history. This will be an unforgettable moment and we're so honored that Chris is carrying this torch."
Rock, of course, was infamously slapped by Will Smith at this year's Academy Awards. He's only lightlytouched on the incident since, but did specifically say onstage in London, "People expect me to talk about the bullshit, I'm not going to talk about it right now. I'll get to it eventually, on Netflix."
With the slap having been one of the most talked-about moments of 2022, Rock's special is poised to be a highly viewed continuation of the saga.