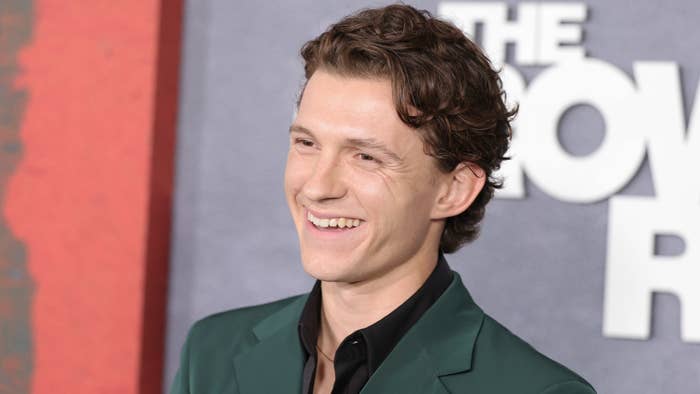 UPDATED 6/14, 12:40 a.m. ET: On Live with Kelly and Mark this week, Holland clarified his hiatus timeline.
"It's so funny. Obviously, The Crowded Room came out, we didn't have very favorable reviews. So the press story was that I have taken this year off because of the reviews. But I'm eight months into my year off," he shared. "I've been chilling at home in London, going to Grand Prixes, playing golf."
He then thanked his fans and those who have said kind things about The Crowded Room. See the exchange below at the 7:10 mark:
See original story below.
Tom Holland is pointing to his dual role of actor and executive producer on Apple TV+'s The Crowded Room for inspiring him to take a year off.
In a recent interview with Terri Seymour for Extra, Holland—who plays the lead in the thriller miniseries inspired by Daniel Keyes' The Minds of Billy Milligan novel—reflected on the unique challenges brought on by this particular project.
"We were exploring certain emotions that I have definitely never experienced before," he said. "And on top of that, being a producer [and] dealing with the day-to-day kind of problems that come with any film set just added that extra level of pressure."
While Holland took a liking to the "learning curve" of this approach, it ultimately pushed him to realize he needed some extensive time away.
"The show did break me," he revealed. "There did come a time where I sort of was like, I need to have a break. I disappeared. I went to Mexico for a week and had some time on a beach and laid low. And I'm now taking a year off and that is a result of how difficult this show was."
The Crowded Room premieres on Apple TV+ this Friday.
Aside from the new miniseries, Holland has another Spider-Man film on the horizon, as well as a previously announced Fred Astaire biopic. The former, per multiple people involved, was only in the meetings stage of development when such talks were paused due to the ongoing WGA strike.