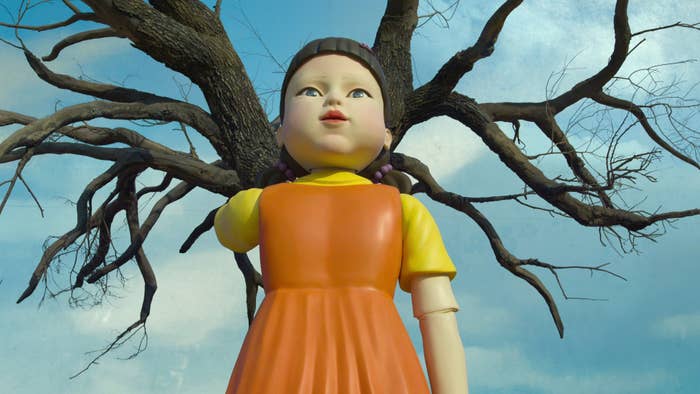 While Stranger Things remains an indisputably massive property for Netflix, with its upcoming final season sure to extend that dominance, the latest batch of the Duffer Brothers' supersized-blockbuster has been determined to have fallen short of the initial viewership numbers needed to best a certain Squid Game record.
Per Variety, the split-release strategy for Stranger Things Season 4 means that Volume 1's viewership in its first 28 days of availability was combined with Volume 2 stats for its own initial 28-day window (Volume 1 viewership that overlapped with the Volume 2 window, meanwhile, was not counted for this Squid Game comparison).
Stranger Things Season 4 ran up roughly 1.4 billion hours viewed, which falls short of Squid Game's 1.7 billion hours during its first 28 days of availability. Deadline also reported on these stats, with the outlet adding that Stranger Things managed to get closer than any other property to besting the Squid Game record.
The streamer's most recent top 10 ranking for English-language series sees Stranger Things in the No. 2 spot with more than 57 million hours viewed, while Virgin River's fourth season is in the top spot with just under 88 million hours. For the same time period for non-English series on the platform, the top spot (for the week ending July 31) is held by the first season of Extraordinary Attorney Woo with more than 65 million hours viewed. See more charts here.
In June, Netflix made a formal announcement regarding Squid Game's Season 2 return, complete with a letter to fans from director Hwang Dong-hyuk.
"It took 12 years to bring the first season of Squid Game to life last year. But it took 12 days for Squid Game to become the most popular Netflix series ever," the filmmaker said.
As for Stranger Things and whether the Duffers will repeat the Season 4 strategy of breaking up the season into two parts, that remains to be seen. This week, writers on the series announced the kickoff of work on the show's fifth and final season.