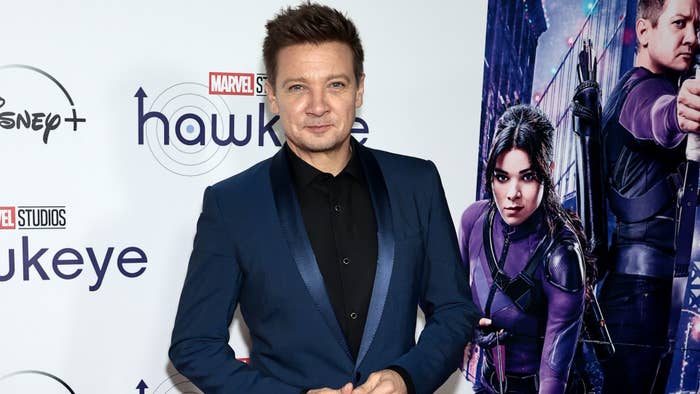 UPDATED 1/3, 10 p.m. ET: Jeremy Renner is thanking his fans and peers for their support after suffering injuries in a snowplow accident over the weekend.
TMZ reports Renner was helping a family member get their vehicle out of the snow when he was run over by his own plow. 
Renner hopped on social media on Tuesday to share his first words since the accident, in an Instagram post that featured a picture of the actor recovering in the hospital.
"Thank you all for your kind words," he wrote. "Im too messed up now to type. But I send love to you all."
UPDATED 11/2, 11:30 p.m. ET: Reps for Jeremy Renner released a statement to Deadline on Monday revealing the actor underwent surgery earlier today after sustaining "blunt chest trauma and orthopedic injuries."
The Hawkeye star is still in critical but stable condition.
"We can confirm that Jeremy has suffered blunt chest trauma and orthopedic injuries and has undergone surgery today, January 2nd 2023," the statement reads. "He has returned from surgery and remains in the intensive care unit in critical but stable condition." 
The note also relayed the family's gratitude to anyone and everyone who has helped the 51-year-old along the way.
"Jeremy's family would like to express their gratitude to the incredible doctors and nurses looking after him, Truckee Meadows Fire and Rescue, Washoe County Sheriff, Reno City Mayor Hillary Schieve and the Carano and Murdock families," the message reads. "They are also tremendously overwhelmed and appreciative of the outpouring of love and support from his fans."
See original story below. 
Jeremy Renner was involved in what authorities say was a "traumatic injury" incident in Reno, Nevada over the weekend.
In an initial news release, the Washoe County Sheriff's Office said that it responded to "a traumatic injury" in the Mt. Rose Highway area on Sunday morning. Renner is said to have been the only person involved in the incident, with deputies ultimately working with other local agencies "to arrange for medical transport of [Renner] via care flight to a local area hospital."
A spokesperson for Renner, who recently starred in the Hawkeye miniseries for Disney+ and is currently leading Paramount+'s Mayor of Kingstown, later confirmed to Deadline that the incident occurred while the actor was plowing snow. Per the spokesperson, Renner is in "critical but stable condition with injuries suffered after experiencing a weather-related accident while plowing snow."
Previously, regional outlet The Reno-Gazette Journal revealed that Renner had a residence near Mt. Rose-Ski Tahoe, although current reports did not state exactly where the snow-related accident occurred. In recent days, parts of Nevada have been impacted by snow, with tens of thousands in the northern part of the state having been hit with power outages.
When reached for comment on Monday by Complex, a rep for Renner shared the same aforementioned statement. See it in full below.
"As of now, we can confirm Jeremy is in critical but stable condition with injuries suffered after experiencing a weather related accident while plowing snow earlier today. His family is with him and he is receiving excellent care."
Complex has also reached out to the Washoe County Sheriff's Office. This story may be updated.
Subsequent reports from TMZ andPeople both cited sources as stating that Renner's injuries were "extensive." The former went into greater detail, alleging that Renner was using a Snowcat vehicle at the time of the incident. According to the report, which also cited a neighbor, the vehicle "accidentally ran over" one of Renner's legs. A different neighbor is reported to have leapt into action by placing a tourniquet on Renner's legs while they awaited for emergency officials' assistance.
Following news of Renner's serious accident, collaborators and fans alike—including director James Gunn—have continued to share messages of support amid the actor's ongoing recovery process.
The aforementioned Paramount+ original Mayor of Kingstown is slated to begin its second season later this month. Also on the horizon for Renner, whose extended filmography also includes multiple Avengers and Mission: Impossible franchise entries, is the debut of his new Disney+ series Rennervations. The latter was previously reported to be filming near the Reno area.