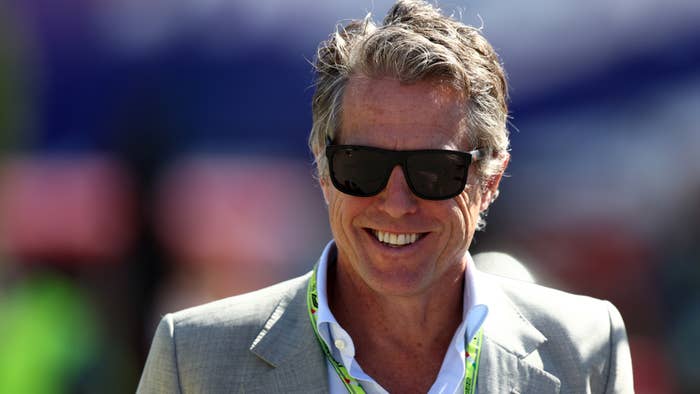 If you haven't yet enjoyed a viewing of Rian Johnson's Glass Onion, which arrived on Netflix on Dec. 23 following a limited theatrical release, then be warned that spoilers do indeed appear in both this very article and others preceding it.
In the Knives Out continuation, Daniel Craig returns as beloved private investigator Benoit Blanc. Much to megafans' delight, and this is the most spoilery aspect of this article, the film provides a small peek into the celebrated character's outside-of-work life. More specifically, we're given a quick cameo from Hugh Grant, who plays Blanc's partner Phillip.
At one point in the film, Grant is seen answering the door for Janelle Monáe's character, who asks with some urgency whether the home in question is "Benoit Blanc's residence," which it is.
"Blanc! There's someone here for you, with a box!" Grant's character, Phillip, responds while holding a container of sourdough starter.
Speaking with Collider last week, Grant was asked by Steve Weintraub to open up about what it's like "being married to" Blanc.
"It is true. I'm married to James Bond," Grant responded, noting that he (at the time at least) still hadn't seen the film himself.
"It's the tiniest little moment," Grant added. "I don't really know why they wanted to do it. But anyway, I thought Knives Out 1 was brilliant. So yeah, I thought, why not?"
The main purpose of the Weintraub chat in question was the upcoming Dungeons & Dragons: Honor Among Thieves, which sees Grant appearing alongside Chris Pine, who also joined him for the interview. Pine, notably, had also not seen Glass Onion at the time of their discussion.
See more below. The Glass Onion bit occurs at the top of the five-minute video.
In October, Johnson was asked during BFI London Film Festival press conference whether Craig's character "is, in fact, queer" or whether "y'all are just playing." After audible excitement from the audience, Johnson answered.
"Yes, he obviously is," Johnson said at the time, adding that there is "nobody in the world I can imagine it bringing me more joy for Benoit Blanc to be with." The latter, of course, we now know was a spoiler-free reference to Hugh Grant.
Glass Onion is out now and is available to stream via Netflix. As previously reported, Johnson is understandably not fond of the fact that Knives Out appears in the promotional title.