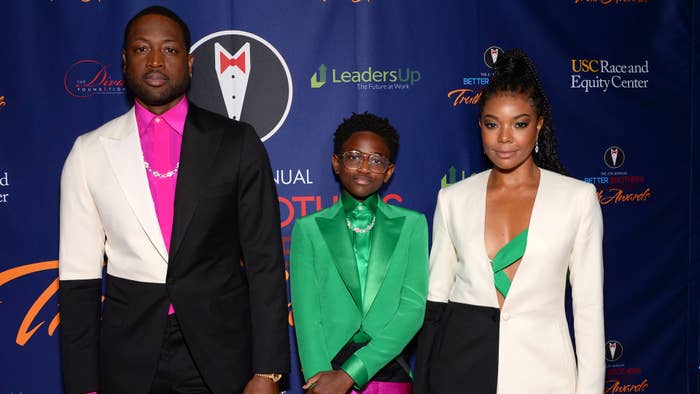 Dwyane Wade is discussing why he moved his family out of Florida on Headliners with Rachel Nichols.
In the below clip from the forthcoming interview, the two spoke on how Florida politicians have negatively impacted the LGBTQ+ community with homophobic and transphobic rhetoric and legislation.
"That's another reason why I don't live in that state," said the NBA legend. "A lot of people don't know that. I have to make decisions for my family—not just personal, individual decisions. I mean, obviously, the taxes is great, having Wade County is great. But my family would not be accepted or feel comfortable there. So that's one of the reasons why I don't live there." 
Wade is the father to 21-year-old basketball player Zaire Wade, 15-year-old model Zaya Wade, 9-year-old son Xavier Wade, and Kaavia James, the 4-year-old daughter he shares with wife Gabrielle Union-Wade. In 2020, Zaya came out as transgender. This past February she officially changed her gender identity and legally took the name Zaya Malachi Airamis Wade.
Just last week, the Associated Press reported that a Florida state board "approved an expansion of what critics call the 'Don't Say Gay' law Wednesday, and the House passed bills on gender-transition treatments, bathroom use and keeping children out of drag shows."
In the full Headliners interview set to air Thursday, D-Wade also touched on his parenting philosophy. Per People, the Hall of Famer credits his own father, saying, "I tell my dad all the time, I'm just a mirror image of the way he loved us and the way that he accepted not only myself and my brothers but other kids in the community that didn't have father figures." 
He continued, "And so I don't know any difference. And so yes, I had to educate myself and yes, I had to get a better understanding. And yes, I had to lose some friends along the process, but I never wavered on loving my kids and trying to find space to get the chance to understand them."
Last June, speaking on the swell of laws banning trans athletes in girls' and women's sports, Wade said at the Time 100 Summit, "As sad as it is, as blessed as my daughter is to have parents who can support her, I'm still afraid every moment she leaves the house, and not just because of gun violence but because of the way that people perceive her in this world."
Wade's full appearance on Headliners with Rachel Nichols airs Thursday night.