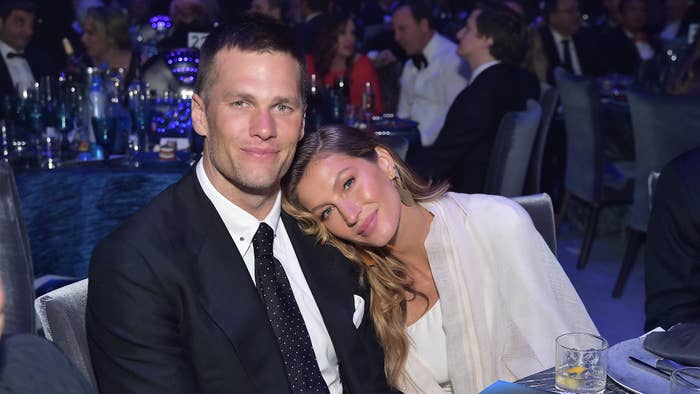 UPDATED 9/15 11:12 a.m. ET: A source close to Tom Brady and Gisele Bündchen has told CNN that the couple are "living separately" amid reports they're going through "marital issues," something that has been previously been reported on.
The latest update comes not long after Bündchen told Elle that she jad "concerns" about her husband's decision to reverse his retirement. It's not clear where either of them are currently living, although Brady is busy back at the Tampa Bay Buccaneers despite missing 11 days of training in recent months.
UPDATED 9/14, 6:30 p.m. ET: Gisele Bündchen spoke with Elle for its October issue, revealing she and husband Tom Brady have repeatedly engaged in conversations where she's voiced concerns about him continuing to play the "very violent sport" of football, and expressed a desire for him "to be more present." 
"Obviously, I have my concerns—this is a very violent sport, and I have my children and I would like him to be more present," Gisele said. "I have definitely had those conversations with him over and over again. But ultimately, I feel that everybody has to make a decision that works for [them]. He needs to follow his joy, too."
Elle notes her comments were made prior to reports claiming the two are no longer living together. Bündchen "declined to comment on the speculation" when the magazine reached out earlier this month. 
Gisele also discussed her focus on their family, which includes Benjamin, 12, and Vivian, 9, as well as 15-year-old Jack, Brady's child with ex-girlfriend Bridget Moynahan. 
"I've done my part, which is [to] be there for [Tom]. I moved to Boston, and I focused on creating a cocoon and a loving environment for my children to grow up in and to be there supporting him and his dreams," she said. "Seeing my children succeed and become the beautiful little humans that they are, seeing him succeed, and being fulfilled in his career—it makes me happy. At this point in my life, I feel like I've done a good job on that."
See original story below.
TMZ is reporting that Gisele Bündchen and Tom Brady are not living together as they navigate a "rough patch" in their marriage following his decision to un-retire. 
Sources told Page Six earlier this month that Bündchen went to Costa Rica following a "series of heated arguments" stemming from his return to the NFL, less than two months after announcing his retirement. "There's been trouble in the marriage over his decision to un-retire. Gisele has always been the one with the kids," an insider claimed. "They had agreed he would retire to focus on the family, then he changed his mind." 
Brady missed 11 days of training camp last month. According to NBC Sports, Tampa Bay Buccaneers head coach Todd Bowles explained to reporters that the QB's absence was "excused" because he needed time to "deal with some personal things." 
After returning to play in the Buccaneers' final preseason game, Brady provided a vague yet honest response regarding his absence during the post-game press conference. "It's all personal...everyone's got different situations they're dealing with. We all have really unique challenges to our life," he said. "I'm 45 years old, man. There's a lot of shit going on, so you just have to try and figure out life the best you can. You know, it's a continuous process." 
In an interview with British Vogue for its June 2022 issue, Bündchen shed some light on what she has dealt with raising their children as Brady dedicates himself to football. 
"I don't think relationships just happen; it's never the fairy tale people want to believe it is. It takes work to be really in sync with someone, especially after you have kids," she said. "His focus is on his career, mine is mostly on the kids. And I'm very grateful that he lets me take the reins when it comes to our family. He trusts my decisions."
Once he does decide to call it quits for good, Brady will transition to the commentating booth as a lead NFL analyst for Fox Sports after inking a 10-year, $375 million deal with the network in May.