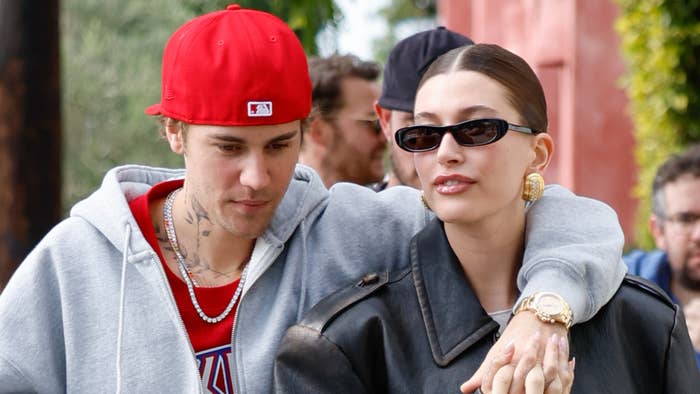 Are Hailey and Justin Bieber getting some company in the near future?
In a new interview with The Sunday Times, the 26-year-old Rhode founder opened up about wanting to expand her family with her husband. "I literally cry about this all the time," Hailey said, laughing.
"I want kids so bad but I get scared," she continued. "It's enough that people say things about my husband or my friends. I can't imagine having to confront people saying things about a child. We can only do the best we can to raise them. As long as they feel loved and safe."
Prior to speaking about the possibility of welcoming mini Biebers in the future, Hailey reflected on the backlash she received following her mini stroke in March 2022. The model said she wanted to share in her own words what was actually going on in her own life rather than have assumptions floating around the internet. 
"If you let things like that silence you, you're allowing people to dictate how you live your life," Hailey explained. "Sometimes I do just want to curl up and be a hermit, like, 'If this is how people feel maybe I should just stay home.' But I'm really not that kind of person."
This isn't the first time Hailey has opened up about dealing with negativity in the public eye. Last month, she took to her Instagram Stories with a message about her experiences this year. 
"I like to make jokes about how I feel because sometimes it's easier than admitting I'm having a hard time," she wrote in April, just a few weeks after she appeared to end her alleged feud with Justin's ex, Selena Gomez. "But truthfully since 2023 started I have had some of the saddest, hardest moments I've ever had in my adult life and my mind and emotions have been fragile to say the least. And I know so many other people feel the way I feel, so just know you're not alone."