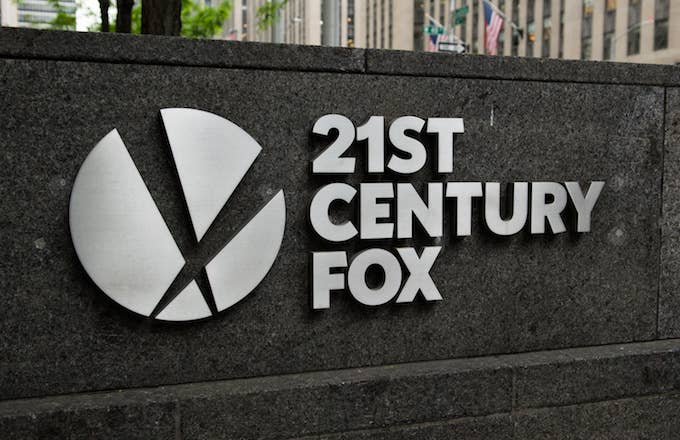 Comcast has announced that it's set to make a counter-offer for the 21st Century Fox assets that Disney intends to purchase.
Comcast shared the news on Wednesday, a move that will be one of the largest ever merger battles in media. Disney and Fox—a film and TV empire that was built by Rupert Murdoch and his sons James and Lachlan—have settled on a $52.4 billion deal. Comcast's counter is thought to be in the $60 billion range, to be paid in cash.
Rumors about Comcast's move to outbid Disney began buzzing in February. But what led to Comcast's announcement today was the fact that Fox and Disney filed SEC documents, readying for special shareholder meetings where Fox and Disney are anticipated to vote on the $52.4 billion acquisition.
The assets set to be purchased include everything under 21st Century Fox, sans the Fox broadcast network, Fox News, and local TV stations. What's at stake are Fox film and TV studios, cable networks like FX and National Geographic, and regional sports operations.
In its statement, per Deadline, Comcast didn't reveal its price for the bid. However, it said it "confirms that it is considering, and is in advanced stages of preparing, an offer for the businesses that Fox has agreed to sell to Disney." While "no final decision has been made," the company said "any offer for Fox would be all-cash and at a premium to the value of the current all-share offer from Disney," adding that "the work to finance the all-cash offer and make the key regulatory filings is well advanced."
The statement continued, "The structure and terms of any offer by Comcast, including with respect to both the spin-off of "New Fox" and the regulatory risk provisions and the related termination fee, would be at least as favorable to Fox shareholders as the Disney offer."
Comcast has its hands in a lot of pots: the company is also seeking to acquire the European pay-TV behemoth Sky, with a $31 billion offer.