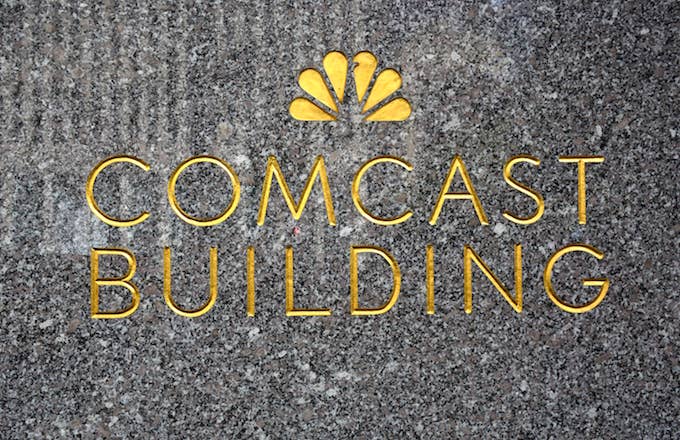 In December, the Walt Disney Company fulfilled a Simpsons' prophecy by announcing its move to buy 21st Century Fox. Even though it seemed like the $52.4 billion deal was already in the bag, a new report by CNBC revealed that communications company Comcast could be taking on Disney in a bidding war, affecting the future of projects like X-Men, Modern Family, and even The Simpsons.
The situation hinges on a potential merger between AT&T and Time Warner that the Justice Department halted last year. The $85 billion deal is stalled under the current administration, to the dismay of many other media giants that are looking to consolidate the industry. If the merger does make it through, then Comcast could attempt to bid for 21st Century Fox. Reportedly, Rupert Murdoch took Disney's offer because the transition of assets was predicted to be easier, but a successful AT&T and Time Warner merger could change that.
As CNBCpoints out, Comcast has already acquired NBC Universal, so this wouldn't be the communication company's first entertainment entity. The deal between Disney and Fox includes 20th Century Fox, Fox Searchlight, 20th Century Fox Television, FX Productions, FX Networks, Fox21, National Geographic Partners, and more. It also gives Disney a 30 percent stake in Hulu. 
Meanwhile, 21st Century Fox said it would put its Fox Broadcasting network and Fox News Channel into a new company for shareholders.
The shows and films affected by the agreement include Deadpool, Avatar, X-Men, This Is Us, Modern Family, and The Simpsons. At the time of the deal's announcement, Disney said that the acquisition would allow the company to "reunite the X-Men, Fantastic Four and Deadpool with the Marvel family under one roof and create richer, more complex worlds of inter-related characters and stories that audiences have shown they love."
It's unclear if Disney will increase its offer should Comcast make a higher bid, or if the company would back down. Unfortunately, this new report means that it's too early to get excited about an ultimate X-Men meets Avengers meets Fantastic Four meets Star Wars (hey, who knows?) meets Black Panther movie coming anytime soon.